Joao Perre Viana «Managing startups: creation of business system»
On October 3-4 Lviv Business School (LvBS) of the Ukrainian Catholic University invites to attend a new open program «Managing startups: the creation of business system» by Joao Perre Viana, a business consultant in nine countries of Europe and Asia, a lecturer at EADA in Barcelona and LvBS. If you have a business idea but you do not know how to turn it to real business; if you have already started your own business but you are not sure where to go next; if your business needs growth and development this program is right down your alley!
At the time of changes and rapid growth, business should be changed and move on to a new footing. Now it is not enough to be the first, it is necessary to be the best! Any innovation or novelty in big companies is a kind of startup, with the advent of which every time there appear plenty of questions: how to organize a creative startup, test a business idea, check the effectiveness of chosen development strategy, upscale the project and create an effective company management system? That is why this program will be useful not only for the startups or people who are going to start a startup but also for the managers of big-sized companies.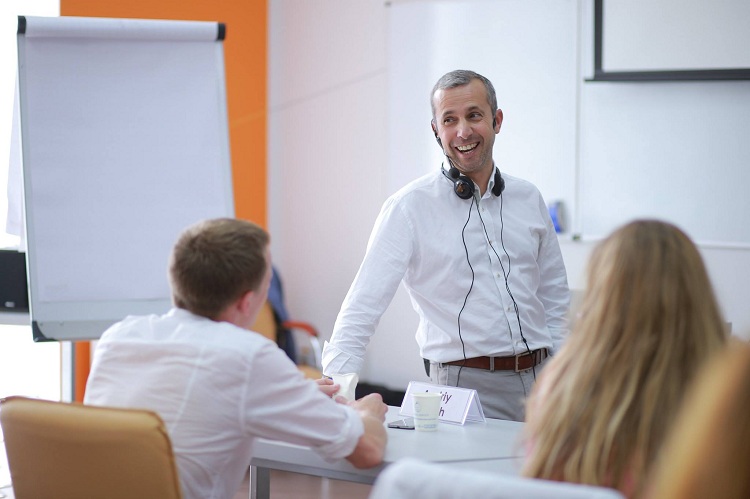 The program consists of 2 modules:
Module 1. The process of business idea evaluation testing for innovativeness and vitality.
In the course of the module, the participants will consider the basic concepts of «careful» project kick-off, will learn how to check their assumptions, how to create the effective products and how to measure their innovativeness. Besides, they will learn how to determine which parts of project development strategy work and which do not work.
First-day goal: to consider and master the business idea development, testing and evaluation process.
Module 2. Basic components of business project development and upscaling.
Only if the product reaches the market, the project may be successfully upscaled to the even-keeled business. At that moment, businessmen face the following challenges:
How to expand and develop the productive business;
Where to find and how to form a groundbreaking team;
Where to find the means to finance new projects.
This is because the previous management plan, which was based on effectiveness and risk management within the period of relative stability does not help the leaders to cope with uncertainty during the period of rapid growth.
Second-day goal: to learn how to create an effective system of enterprise management, to develop the processes allowing the businessmen to develop their business effectively and productively.
In the course of the study, the participants will learn:
What is a Lean Startup methodology, which changed the industry
How to develop, evaluate and test the business idea for innovativeness.
How to check the chosen startup development strategy for the effectiveness.
How to upscale the project to the even-keeled business.
How to switch from old management plan to the new one during the period of rapid development.
Where to find and how to form a groundbreaking team.
How to create an effective business management system.
Who will benefit:
startups that have already started their own project
entrepreneurs who want to upscale their business
developers of groundbreaking ideas who want to start their own project
Lecturer:
Joao Perre Viana, МВА, lecturer of LvBS, a business consultant in 9 countries of Europe and Asia. He is the founder of the investment foundation «LeonardShop», a lecturer of the course «Entrepreneurship and innovations» within MSс in Innovations and Entrepreneurship program and «Business development» within MSс in Technology Management program.
He graduated with a Master of Laws degree from Autonomous University of Lisbon (Universidade Autónoma de Lisboa) and MBA in Vlerick Leuven Management School in Gent (Belgium). Alongside with his professional activity, he received a postgraduate degree: in marketing from IPA, in management from INDEG-ISCTE.
Over the last 15 years, he has been working as a manager, a consultant, and a lecturer and has been holding key positions at «J.Walter Thompson», «Duval Guillaume», «Leo Burnett», «Brandia Central» and «Education Group Evolution». In the course of his professional career, he has been working in nine different countries, mainly in the countries of Western Europe, Eastern Europe, and Central Asia.
Timing: October 3-4 (Tuesday-Wednesday) from 10:00 to 18:00
Duration of the program: 2 days
Program cost: 7800 UAH (exclusive of VAT)
The language of the program – English.
Seats are limited that is why preliminary registration for the program is a must.
Contact people:
Mariana Pankiv, mpankiv@lvbs.com.ua; +38 067 6756608; +38 097 8463672.