Lead-IT: program for team leaders
Lviv Business School of UCU (LvBS) invites you to participate in the executive education program – Lead-IT. The program is specially designed for team leaders and managers from IT companies. Those who are already in leadership positions but look for upgrading their skills and knowledge will benefit from the program.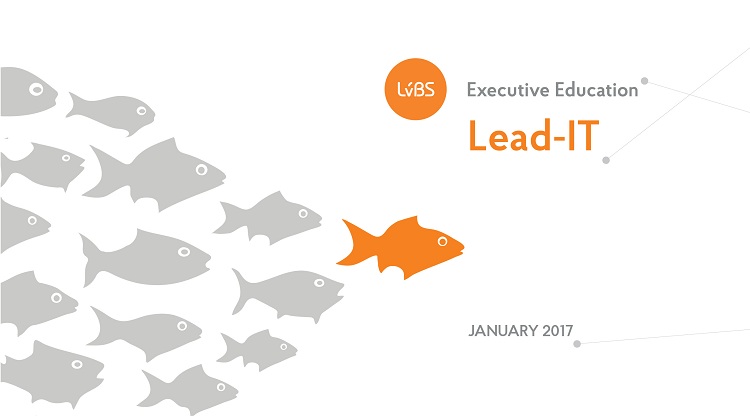 The program starts January 24, 2017 and consists of five segments (1 day per month):
Segment 1. Communicating with Impact
Segment 2. Building technology-led teams
Segment 3. Personal effectiveness
Segment 4. Managing people for creativity and driving productivity
Segment 5. Leading knowledge-intensive teams for innovation
Prework before each segment to include: Reading material; Video links; Questionnaires.
Activities during workshop:
Introduction to each topic
Exercise/Role play
Group discussion : learning outcome
Relating this back to on the job
Support materials: Workbook for each, all slides used and models in workbook, Suggested reading list for further understanding.
At the end of the program delegates should be more:
creative and productive
proactive and initiating
able to interact with people
confident
strategic in thinking processes
demonstrate leadership capability
The program is run in English.
Program start: January24, 2017.
Program сost:
Individual participation - 1950 USD (without VAT)
Faculty
Daniel Lewis has over 30 years of management experience in Blue Chip companies such as Nestlé, General Motors, SABMiller and Heineken.
He assisted Companies in the development of management and leadership skills. He was involved in a successful corporate culture change after an acquisition in South Africa and trained over 250 people in this process.
Since 2002 Daniel assists companies in accelerating development of leadership capability of high potentials and senior management. He is a qualified coach (Henley Management College), and fully qualified to administer the Myers Briggs (MBTI) and FIRO-B psychometric tools.
He has lived and worked in six different countries and participated in many cross-cultural projects with remarkable success.
Since 1988 Daniel is a Member of Chartered Institute of Management Accountants (F.C.M.A.) He is also a Member of the Institute of Management Consultants. Daniel is also an associate member of the Chartered Institute of Personnel and Development (C.I.P.D.).
Daniel is the author of the ©Challenger Leadership development and Executive Development programs and is himself a highly experienced facilitator.
For more information please contact: Igor Kryvyy – ikryvyy@lvbs.com.ua, +38 067 675 66 08.