Lviv IT Arena
LVBS became a silver partner of Lviv IT Arena conference. 2-4 of October Lviv IT Arena brings together more than 1000 participants and over 100 of outstanding skeaker from companies like Epson, Facebook, Mail.ru, SAP, IBM Design, FitBit, HP, Amazon.
The conference will be divided into three thematic streams - Product, Technology and Business, which will be focused on the latest IT trends. Lviv IT Arena will be of particular interest to programmers, developers, entrepreneurs, top managers, investors, designers, PMs, CEO's of IT companies and startuppers.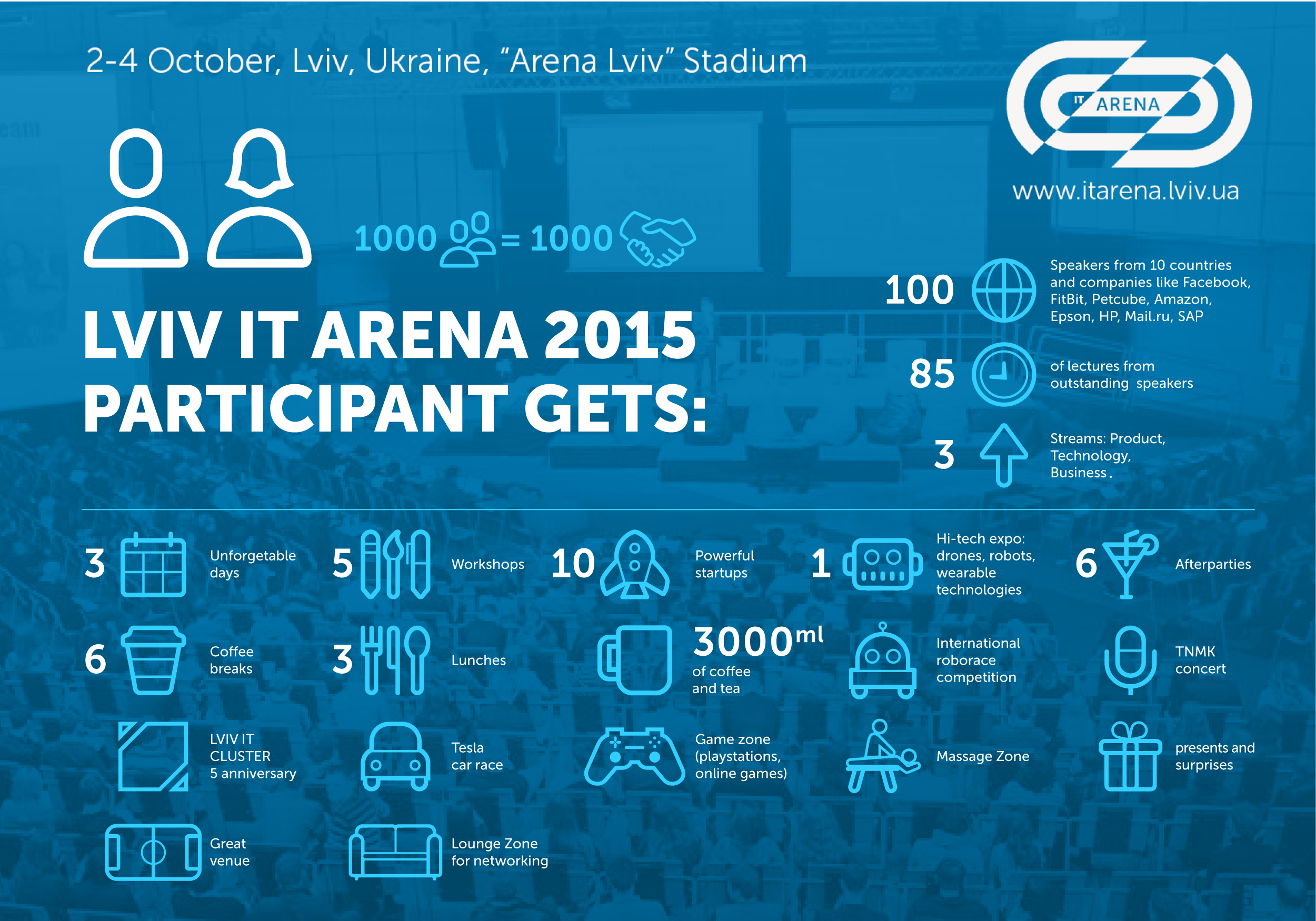 Also you will have an opportunity to talk with CEO's of largest IT companies in Ukraine like SoftServe, N-IX , Eleks, Global Logic, EPAM Systems, Luxoft etc.
During Hi-tech Expo you will be able to control drone, talk to robots, see 3d printer models and meet developments and products made by Ukrainian and foreign companies. During Startup competition nearly 10 powerful business ideas will be presented.
Except of three days full of exciting speeches, workshops Lviv IT Arena has prepared lot's of entertainment for participants. Everyday afterparties, networking, special relax zone with computer games, massage chairs and playstations. and the most delicious meals waiting for every participant of Lviv IT Arena conference. During Closing Ceremony TNMK will party with participants.
If you want to be aware of the main trends and innovations in the world of IT – don't miss Lviv IT Arena.
Follow Lviv IT Arena:
web page http://itarena.lviv.ua/,
facebook https://www.facebook.com/lvivitarena
twitter https://twitter.com/LvivITArena
Lviv IT Arena 2015 application https://attendify.com/app/fz4vrd/
You can buy ticket HERE https://gastroli.ua/events/it-arena-lviv
Don't forget to use promocode LVBS_ITArena
Organizers: Lviv IT Cluster, Eleks, Startup Depot, LITS, GDG Lviv, WISC
Exclusive Partner: SoftServe
Platinum Partner: HP, Lantec
Exclusive Polish Partner: Atman
Official Partner: European Bank of Reconstructiona and Development
General Partner: Sigma Software
Gold Partner: Legenda, Group FS, Ukrtelecom, Perfectial, DataArt, Оptima Plaza, QubStudio, Cogniance, Juscutum, Turkish Airlines, NVK Group
Silver Partner: And Action, Limelight, Conscensia, Roll'n'Code, Ciklum, IT Ukraine, GLT School, Up Work, LVBS
Hospitable Partner: Nravo, Astoria Hotel, Panska Gora, Edem Resort, Hotel Irena, Taurus Hotel, Nota Bene Hotel, Ramada Lviv
Cluster's Cooperation: IT Cluster Kharkiv, IT Cluster Odesa, IT Cluster Dnipro, IT Cluster Lutck, IT Cluster Cherkasy