Business lunch with Charles K. Whitehead "Cooperation between universities, municipalities and businesses"
On October 12 Lviv Business School invites you to a business lunch with Charles K. Whitehead, the Myron C. Taylor Alumni Professor of Business Law at Cornell Law School, to talk about cooperation between universities, municipalities and businesses through the Cornell Tech campus in New York City.
Professor Whitehead will describe Cornell's new Tech Campus in New York City, in particular focusing on the goal of the Tech Campus to enhance technology entrepreneurship in New York, the Law School's role in the new campus, and the goals for a newly-introduced Master of Laws (LLM) in Law, Technology and Entrepreneurship.
Contact person
Ludmyla Kryzhanowska
lkryzhanovska@lvbs.com.ua, +3 8097 48 00 492
Background information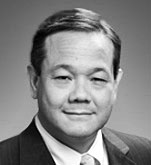 Charles K. Whitehead is the Myron C. Taylor Alumni Professor of Business Law at Cornell Law School, specializing in business organizations, capital markets, financial institutions and transactions, and mergers and acquisitions. Professor Whitehead represented clients and held senior legal and business positions in the financial services industry, in New York, London, and Tokyo, before entering academia. He was a Research Fellow at Columbia Law School (where he continues as a Visiting Scholar in Residence)before joining the Boston University School of Law in 2006 and Cornell Law School in 2009. His most recent publications appear or are forthcoming in the Boston University Law Review, Cornell Law Review, Georgetown Law Journal, and Ohio State Law Journal, and as chapters in the Research Handbook on Mergers and Acquisitions, and the Oxford Handbook of Corporate Law and Governance. Professor Whitehead was the first "foreign expert" visiting professor at Peking University Law School, is a Research Fellow in the Center for Financial Studies at Goethe University, Frankfurt, Germany, and is the honorary Professor of U.S. Business Law at Yaroslav Mudriy National Law University, Kharkiv, Ukraine. He is a member of the American Law Institute and a Fellow of the American Bar Foundation. Professor Whitehead was a law clerk to the Hon. Ellsworth A. Van Graafeiland, U.S. Court of Appeals (2nd Circuit), and is a graduate of Columbia Law School, where he was a Harlan Fiske Stone Scholar and a James Kent Scholar, and Cornell University, magna cum laude in Government.
Cornell Law School combines cutting-edge legal scholarship and inspiring teaching to create a close-knit, intellectually rich environment. For the past two years, it has been rated the most diverse top law school in the country. The Law School has consistently ranked among the top 10 law schools nationwide in large job placement. Students come from over 107 different undergraduate institutions, 29 states, and 10 foreign countries.
Cornell Tech develops pioneering leaders and technologies for the digital age. Cornell Tech brings together faculty, business leaders, tech entrepreneurs, and students in a catalytic environment to produce visionary results grounded in significant needs that will reinvent the way we live in the digital age. Cornell Tech's temporary campus has been up and running at Google's Chelsea building since 2012, with a growing world-class faculty, and about 150 master's and Ph.D. students who collaborate extensively with tech-oriented companies and organizations and pursue their own startups. Construction is underway on Cornell Tech's campus on Roosevelt Island, with a first phase due to open in 2017. When fully completed, the campus will include 2 million square feet of state-of- the-art buildings, over 2 acres of open space, and will be home to more than 2,000 graduate students and hundreds of faculty and staff.