Meeting with Oksana Zabuzhko "Culture as a National Narrative. Can a Country without CV Be Successful?"
On December 10, Lviv Business School of the Ukrainian Catholic University invites entrepreneurs to a meeting with Oksana Zabuzhko which will take place within the framework of the Business Credo Discussion Club. Topic of the meeting "Culture as a National Narrative. Can a Country without CV Be Successful?"
Place – c. Kyiv.
Beginning at 6:30 PM
To participate in the meeting, please fill out a registration form. The venue will be indicated in the confirmation letter (after December 8).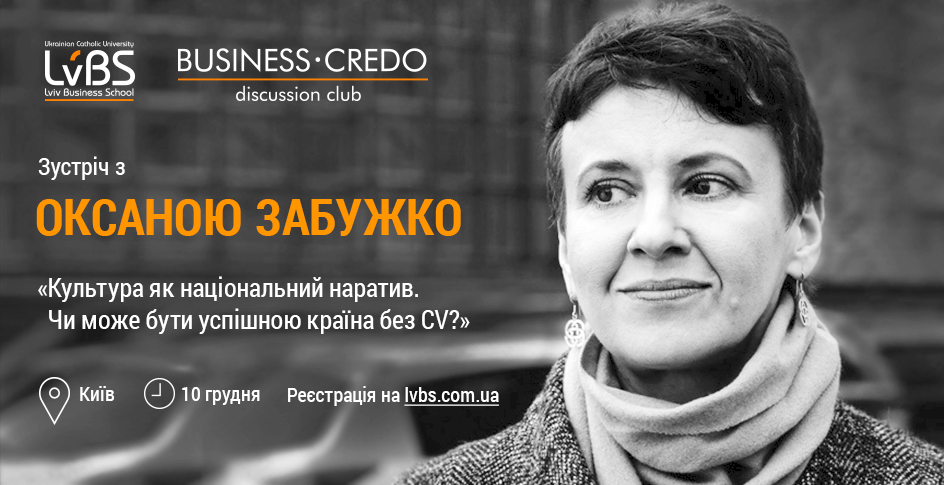 Oksana Zabuzhko was born in Lutsk on September 19, 1960 to a family of philologists. In 1968, her family moved to Kyiv. Her poems were first published in 1972. Educational background: Kyiv secondary school #82 (1977); Taras Shevchenko State University of Kyiv, Department of Philosophy (1982); postgraduate studies at the same university, Department of Ethics and Esthetics (1986). In 1987, she successfully defended her Ph.D. thesis entitled "Esthetic Nature of Lyric Poetry as a Type of Art".
During 1986-1988, Oksana Zabuzhko taught esthetics and history of culture at the Tchaikovsky Conservatory in Kyiv. She has been a research associate at the Institute of Philosophy of the National Academy of Sciences of Ukraine since 1988. In 1992-1994, she taught at several U.S. universities (Penn State University, Harvard University, University of Pittsburgh) as a visiting writer and Fulbright scholar. Since 1996, when her novel Field Work in Ukrainian Sex was published in Ukraine and A Kingdom of Fallen Statues came out in Canada, Oksana Zabuzhko has been pursuing a career in professional writing. She travels a lot and performs a number of civic roles – Vice President of the Ukrainian PEN Center, member of the Supervisory Board of the International Renaissance Foundation, member of numerous editorial boards as well as jury member at various competitions in Ukraine and abroad. In 2013, Oksana Zabuzhko won the 2013 Angelus Award for Central European Literature (8th edition) for The Museum of Abandoned Secrets.
Background information
Participation in meetings of the Business Credo Discussion Club is an opportunity for owners and senior managers to communicate in a 'business talk' format with leading thinkers and opinion makers in the Ukrainian and international environment.
Our previous guest speakers include: His Grace Bishop Borys Gudziak, President of the Ukrainian Catholic University; Krzysztof Zanussi, a famous Polish director; Myroslav Marynovych, a Ukrainian human rights activist and publicist; His Beatitude Lubomyr Husar; Yaroslav Hrytsak, a well-known researcher and historian; poet and publisher Ivan Malkovich; publicist and literary critic Eugene Sverstyuk (1928-2014); social activist and Ukrainian entrepreneur Valeriy Pekar.

Project Partner
Information Partner