Lecture by Michel Tereshchenko "Corporate Social Responsibility: How to Turn a Provincial Town into a Case for the Entire Country?"
On January 27, Lviv Business School of UCU invites you to a lecture by Mayor of Hlukhiv Michel Tereshchenko. The lecture is entitled "Corporate Social Responsibility: How to Turn a Provincial Town into a Case for the Entire Country?"
Michel Tereshchenko is a French-born entrepreneur, descendant of the famed Tereshchenko dynasty of industrialists and philanthropists who were Ukraine's first sugar producers, Mayor of Hlukhiv.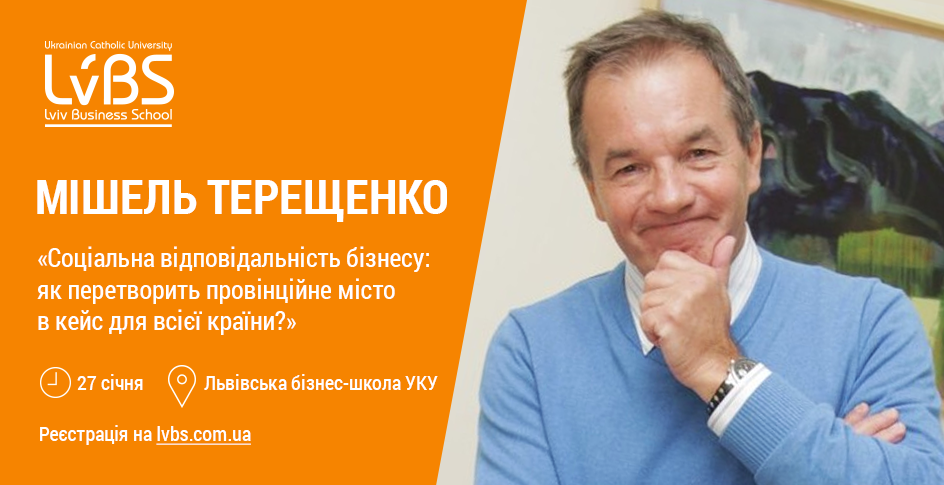 Date and time – January 27, 18:00-19:30
Venue – Lviv Business School of UCU, lectorium, 2a Kozelnytska St.
The meeting will be held in English. It is open to the public but subject to prior registration. Please fill out a registration form.
Talking points for the meeting:
- Hlukhiv: how to turn a provincial town into a case for the entire country?
- Corporate Social Responsibility: the role of entrepreneurs in societal renewal
- European values in Ukraine – our prospects on a global scale
- Traditions of entrepreneurship and philanthropy in Ukraine – why was the Tereshchenko family successful?
Contact person – Veronika Savruk
media@lvbs.com.ua, 067 67 56 608