Master Class from David Braun "Global Market vs. Ukrainian Market: A Hard Talk about IT Development"
On April 7, Lviv Business School of UCU and Creative Quarter invite you to a master class from David Braun, co-founder of Template Monster (USA), on "Going Global or Staying Local: A Hard Talk about Tough IT Decisions" as part of a joint project entitled "Wake Up Meetings".
The meeting will be moderated by Ilia Kenigshtein, co-founder and CEO at Creative Quarter, advisor to Lviv City Mayor on innovation and investment.
Place: Lviv Business School of UCU, 2a Kozelnytska St., lectorium
Date and time: April 7, Thursday, 18:00-19:30
The focus of David Braun's master class will be on what it means for Ukrainian IT companies to go global and the tools they need to this end.
Key topics of the meeting:
Operating in Ukraine: pros and cons
How to win globally? Is it possible?
5 life lessons from David Braun – personal success story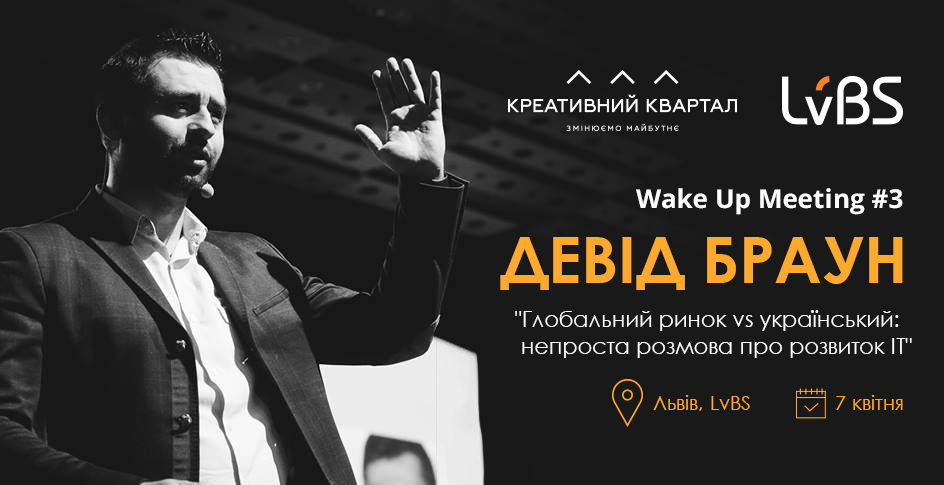 David Braun (David Arakhamia), 35, born in Georgia. In the early 1990s, during the war in Abkhazia, his family moved to Ukraine. "In my fourth year at university I decided to try my hand at startups. Since then I've been involved in business management. When the warfare broke out in eastern Ukraine, I set up a crowdfunding platform called "People's Project" (www.peoplesproject.com). I also volunteer for the army and head the Volunteers' Council under Ukraine's Ministry of Defense," David says about himself.
Key Learener who will draw managerial conclusions at the meeting – Anton Skrypnyk, CEO and Co-founder at KindGeek, an expert from the IT industry and a graduate of LvBS MSc in Technology Management program.
To attend the master class, please fill out a registration form.
Participation in the master class is subject to a charity donation of 200 UAH. All the donations will be transferred to the UCU Volunteer Hundred that provides support for the military defending Ukraine's territorial integrity.
Contact person: Lilia Kuzik, lkuzik@lvbs.com.ua, 067 67 56 608
Background information
The Wake Up Meetings project was launched jointly by Lviv Business School of UCU (LvBS) and Creative Quarter to foster the development of innovation, product companies, and IT entrepreneurship in Lviv. Within the framework of the project in 2016, we are planning to organize 12 master classes from successful Ukrainian entrepreneurs who own product companies and have achieved global recognition. They will share their experience and give practical tips on the key first steps towards success. The speakers of the previous meetings were Yevgen Sysoev and Vlad Voskresensky.