Joao Perre Viana's Seminar «Business. Plan B»
On June 23-24 Lviv Business School invites you to participate in an open seminar «Business. Plan B», taught by Joao Perre Viana, a business consultant in 9 countries of Europe and Asia, a lecturer at EADA in Barcelona, and at LvBS in Lviv.
The rules of the game change every day. Business needs to be prepared for this. Our current environment should be as comfortable, as it is possible, Joao Perre Viana believes.
«Managers should always have a backup plan, just in case the rules of the game change. And this shouldn't be seen as a challenge, rather as a part of a working process», he claims.
The questions to be answered during the seminar:
What should one take into account when building a strategy and how to provide for a Plan B? The conclusions are drawn as based on companies' experiences over past 5 years.
What is the difference between uncertainty management and risk management?
What type of leadership is most effective at different stages of company development?
What skills are required to develop business successfully?
What new forms of cooperation with clients, employees and strategic partners can help you react to change efficiently?
Topics to be covered:
Strategic forecasting
Navigational leadership
Flexibility and resilience
Openness to cooperation
Target audience of the seminar:
Business owners
Company directors
Managers in charge of company business-processes
Date: 23-24 June 2016
Venue: Lviv Business School of the UCU (LvBS)
To participate in the seminar, please, fill out the registration form
Program cost:
01.06.-20.06 – $200
21.06-23.06 – $300
The seminar will be held in English (with interpretation).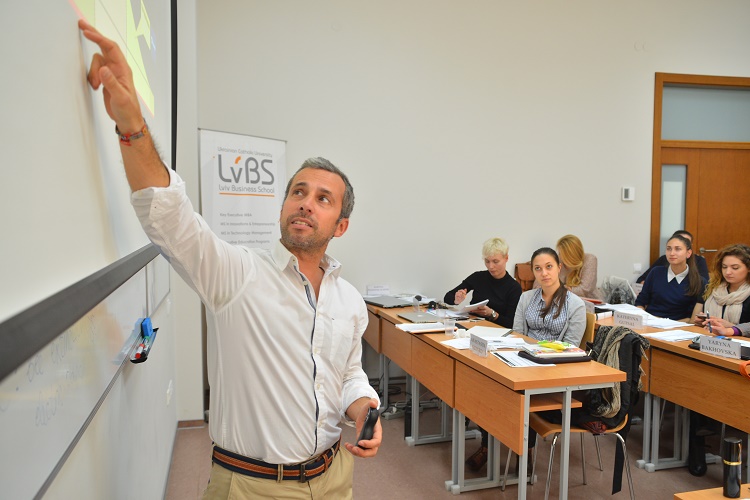 Joao Perre Viana is a founder of the LeonardShop Investment Fund; he teaches the course of "Entrepreneurship and Innovation" on the MSc program in Innovations and Entrepreneurship and also the course of "Business Development" on the MSc program in Technology Management at LvBS.
Joao Perre Viana received his Master's Degree in Law at the Autonomous University of Lisbon (Universidade Autónoma de Lisboa) (1997) and obtained an MBA at Vlerick Leuven Ghent Management School (2003) in Belgium. In parallel with his professional activities, he also completed a course of post-graduate studies in Marketing at IPAM, and a course of post-graduate studies in Management at INDEG-ISCTE.
Contact person: Maryana Pankiv, mpankiv@lvbs.com.ua, 0676756608