Maksym Bakhmatov on "IT, Show-biz and Marketing of Unattractive Venues"
On June 3rd we invite you to participate in the masterclass given by Maksym Bakhmatov, IT businessman, Ukrainian showman and producer. The meeting, embracing the topic of "IT, Show-biz and Marketing of Unattractive Venues" will be held as a part of "Wake Up Meetings", a joined project of UCU Lviv Business School and the Creative Quarter.
The meeting will be moderated by Illia Kenihshtein, Founder and CEO of Creative Quarter, Investment and Innovations Advisor to the Mayor.
Location: UCU Lviv Business School, 2a Kozelnytska St, room 305
Time: 3 June, Friday, 6.30-8.00 PM
During his masterclass Maksym Bakhmatov will share several important cases in the fields of IT business, charity projects and marketing, and also tell the story explaining why he lived behind the glass shop window on Khreshchatyk for a whole month.
Outline of the meeting:
Million dollar ideas: how to come up with and how to sell them
What is a telecom-accelerator and why Ukraine needs one
Simple lessons of success in difficult situations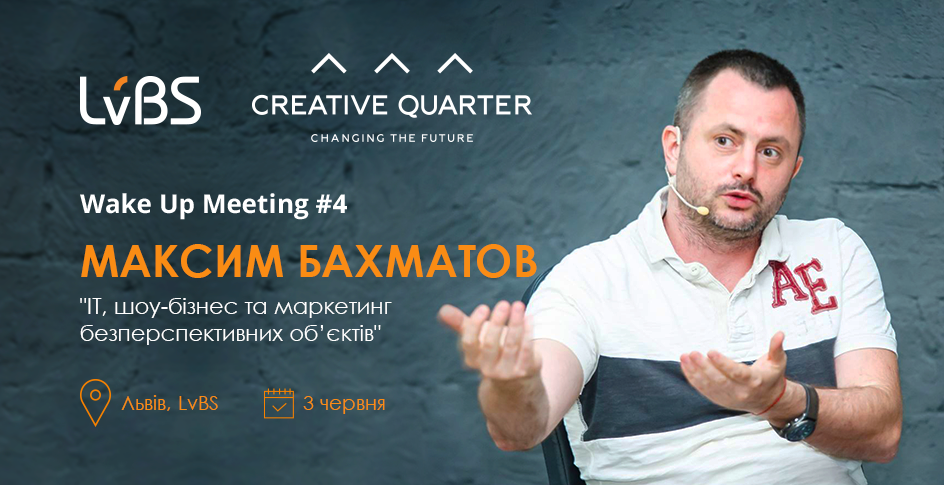 At present, Maksym Bakhmatov is a Director of the National Exposition Center of Ukraine belonging to the State Management of Affairs, and his ambitious goal is to transform this soviet exhibition complex into a center for innovations. Previously, Maksym Bakhmatov carried out successful IT projects, besides he is an experienced sales manager and famous Ukrainian showman.
He started his career in MTS Company, then worked as Business Development director at Leo Burnett, and Samsung Sales Manager for the Baltic states. In 2005 together with his German partner Eduard Singer Bakhmatov founded UkrGerman Enterprise (UGE), an IT company. In summer of 2014 UGE attracted the interest of SoftServe; their joint project was estimated at more than $2 mln. Since 2006 Maksym has been developing Comedy Club project in Ukraine, which in its first year earned $2.3 mln, an unprecedented amount for the Ukrainian show business.
Maksym Bakhmatov is also a successful philanthropist, once he managed to raise UAH 1.6 mln for the treatment of children with congenital heart disease. In summer 2015 he was appointed a director of the National Expocenter of Ukraine, which is being reincarnated right now into a modern innovations hub. In particular, the Expocenter in cooperation with Kyivstar Company have launched an initiative to create a telecom-accelerator, a platform for assisting young entrepreneurs and searching for innovation partners.
This time also tha Key Learner Ivan Muts, PM and Head of R&D Platform of ELEKS, will make the managemant conclusions of event.
Participation in the master class is subject to a charitable donation of 200 UAH. All the donations will be transferred to the UCU Volunteer Hundred that provides support for the military and structural units defending Ukraine's territorial integrity.
Contact person: Lilia Kuzik, lkuzik@lvbs.com.ua, 067 67 56 608
Information note: UCU Lviv Business School in cooperation with Creative Quarter founded the "Wake up meetings" project aimed at those involved in IT. The aim of the project is to promote innovations, encourage the development of product companies and entrepreneurial IT movement in Lviv. There are 12 masterclasses scheduled for 2016 as a part of the project. The anticipated speakers are successful Ukrainian entrepreneurs who already created their product companies and gained world-wide recognition. They will share their experience and offer some practical tips on how to make first steps on the road to success. Yevhen Sysoiev, Vlad Voskresenskyi and David Braun (David Arakhamiia)were the speakers at the previous Wake Up Meetings.