Anna Sehedina on «How Generations Influence Working in HR»
On May 24 UCU Lviv Business School and iHUB Innovation and Entrepreneurship Center as a part of their joint project Entrepreneurs Meetings invite you to attend the lecture on «How Generations Influence Working in HR», delivered by Anna Sehedina, an HR-professional with 10 years of experience, and HR Director in a restaurant network.
Outline of the lecture:
What is the Theory of Generations and why is it useful for HR;
Generation gap and its influence on decision-making;
Generations and values; practical examples of structuring HR-processes on generation values.
Location: iHUB (9, Zamknena St)
Date and time: Friday, June 24, 6.30-8.00 PM
Participation fee: 100 UAH
The participants of MS in HR Program are granted free admission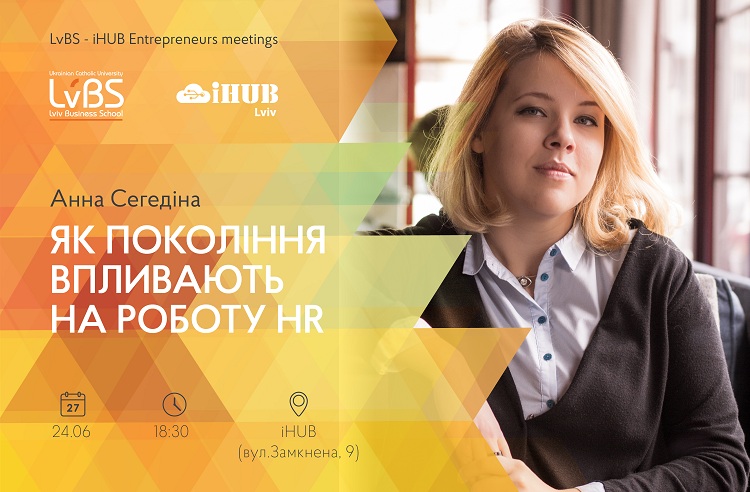 Anna Sehedina is an HR Director of the «SALAD» Restaurant Network (Mario Pizza place, Cherepakha («Tortoise») sushi-bar, BBQ PUB Pleasantville). Anna has more than 10 years of hands-on experience in HR field and building HR-systems in various companies. She became a part of the «SALAD» Network in 2011; she is a member of the Board of Directors and takes part in building a company strategy.
Anna Sehedina graduated from Zhytomyr Technological University, majoring in Human Resources Management and Labor Economics. In 2012-2013 she studied at Anna Vlasova's MBA HRM School.
Anna founded a training course for HR-managers in Zhytomyr, she also participated in creating first Zhytomyr HR Club. Anna regularly interacts with universities' and vocational schools' students in Zhytomyr and Rivne, she founded a Business School for Students, where students are taught the fundamentals of marketing, finance and human resources management free of charge.
To participate in the event, please, fill out the registration form
Contact person: Liliia Kuzik, lkuzik@lvbs.com.ua, 067 67 56 608
Previous lecture, which was part of LvBS and iHUB joint project, was given by Nazar Tanasyshyn, a lawyer, legal advisor of 12 active startups, Honorary Ambassador of Startup Nations (Global Entrepreneurship Network) to Ukraine. Click here for the most interesting quotes and video from the lecture.