Denys Dovhopolyi on «Creation of a Local Ecosystem»
On July 7th we invite you to participate in a Masterclass given by Denys Dovhopolyi, a Co-founder and Managing Partner of GrowthUP Group. The meeting, embracing the topic of «Creation of a Local Ecosystem (Based on the Example of Kyiv)» will be held as a part of «Wake Up Meetings», a joined project of UCU Lviv Business School and the Creative Quarter.
During Denys Dovhopolyi's lecture the following topics will be discussed:
Local ecosystem –how it all started (before 2005)
Formation (2005-2010)
Second wave (2011-1013)
New wave (2013-2016)
Tips:
from outsourcing to product transition
local community
outsourcing expert opinion, predominantly from Silicon Valley
development of international relations (Europe, America, Silicon Valley in particular)
importance of having a success story
payback in a community.
Wake Up Meeting project has an invariable charitable component. This time a part of money, collected as the participation fee, will be used to purchase maps of the Crimean Peninsula for Lviv secondary schools. Vakhtang Kipiani, a famous historian and journalist, is the author of a special project on «Toponymy of the Crimea». The maps created as a part of this project contain historical names of all the towns and majority of villages of the Crimean peninsula. «The maps were created to give teachers an opportunity to demonstrate an entire historical process of the toponymic changes, which took a thousand years. This is an academic study, not an amateur attempt of the professionals. We supplemented it with a flag and anthem of the Crimean Tatars,» Vakhtang Kipiani explains.
Another added bonus of this Wake Up Meeting is its informal component: a barbecue with the speaker Denys Dovhopolyi.
Location: Lviv Business School of the UCU,2a Kozelnytska St.
Program of the event:
6.00-7.30 PM: Denys Dovhopolyi's lecture, Q&A session (Lecture hall, ground floor)
7.30-7.45 PM: Vakhtang Kipiani presents the «Toponymy of the Crimea» project (lecture hall, ground floor)
7.45-8.45 PM: BBQ (in the yard)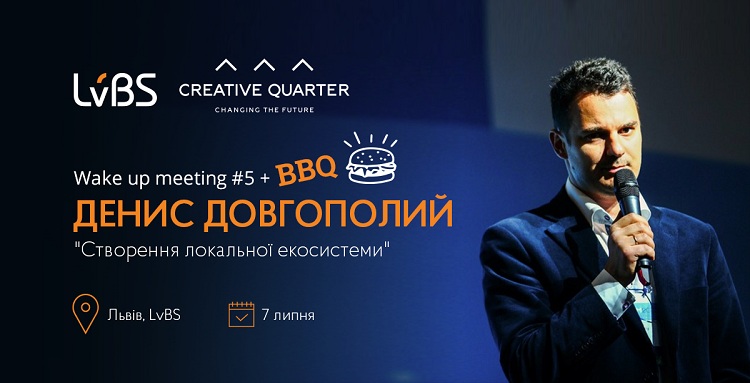 Denys Dovhopolyi is a Co-founder and Managing Partner of the CrowthUP Group. He is also a co-founder of the first Ukrainian GrowthUP business accelerator.
Denys is one of the leaders of the Ukrainian venture and entrepreneurship community. He is a member of the Board of Directors and Supervisory Council of several startups. Dovhopolyi often acts as a founder or organizer of many signature events in the field: IDCEE, iForum, Silicon Valley Open Doors, Startup Crash Test, Kyiv Startup Week, SVOD Europe and some other. Dovhopolyi teaches a course on «Entrepreneurship» in Ukrainian Business Schools. He is the author of one of the most popular in Ukraine hi-tech and VC blogs.
Dovhopolyi was a publisher of Steve Blank's The Four Steps to the Epiphany. Prior to the creation of GrowthUP Group Denys occupied managerial positions in telecom companies and also created several local companies.
Participation fee: 300 UAH.
The number of event participants is limited. The organizers reserve the right to restrict guest participation, therefore a preliminary registration for the event is mandatory.
Contact person: Lilia Kuzik, lkuzik@lvbs.com.ua, 067 67 56 608.
Information note: UCU Lviv Business School in cooperation with Creative Quarter founded the «Wake up meetings» project aimed at those involved in IT. The aim of the project is to promote innovations, encourage the development of product companies and entrepreneurial IT movement in Lviv. There are 12 masterclasses scheduled for 2016 as a part of the project. The anticipated speakers are successful Ukrainian entrepreneurs who already created their product companies and gained world-wide recognition. They will share their experience and offer some practical tips on how to make first steps on the road to success. Yevhen Sysoiev, Vlad Voskresenskyi, David Braun (David Arakhamiia) and Maksym Bakhmatov were the speakers at the previous Wake Up Meetings.
Media Partner Tvoemisto.tv