On September 26, 2019, Kyiv hosts the European Pro Bono Summit for the first time! Within four years the Summit gathers pro bono and skills-based volunteering experts, corporate and non-profit sector representatives from the whole world. Previous years the Summit was hosted  in Madrid, Budapest and Paris.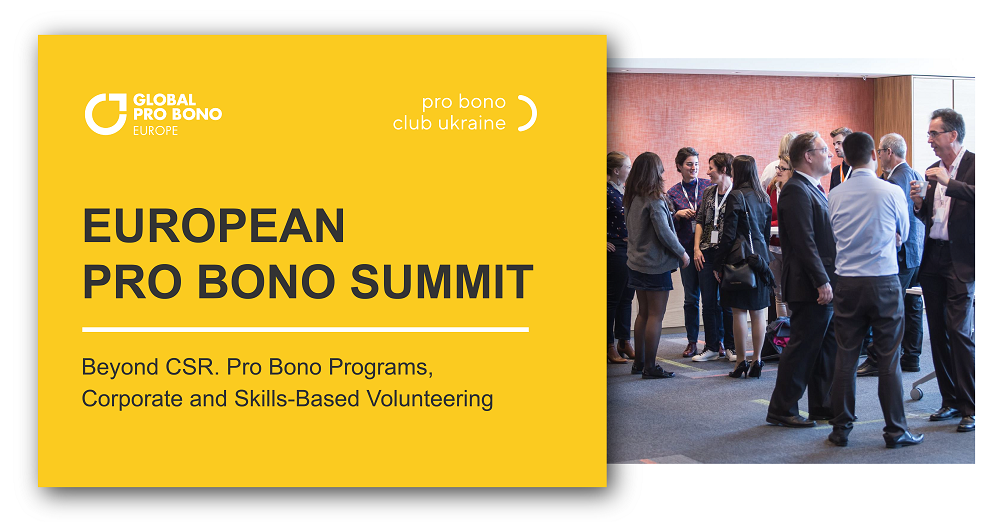 The Summit features Ukrainian and foreign speakers, including experts from Hungary, Germany, and the UK.
Summit participants will find out:
○ What is corporate volunteering, and which of its formats works best?
○ What business gets via sharing?
○ How to integrate pro bono activities into the company's business model?
○ How to develop employees and innovate through pro bono programs and intellectual volunteering?
○ How can CSR enhance and develop business?
The Summit unites the participants from Belgium, Hungary, Spain, Germany, Bulgaria, Georgia, Germany, Norway, and other European countries. After discussions and experience exchange, companies can meet civic organizations in the format of speed-dating. Additionally, the Summit includes the presentation of the results of the first CSR market research in Ukraine. Among the participants of the previous summits were such companies as General Electric, TESCO, and KPMG.
For whom:
Managers and directors of corporate social responsibility, who want to learn about new practices for their companies;

HR-managers, who want to develop their employees;

PR managers who want to strengthen the company's brand through social responsibility without huge budgets;

Business owners who want to implement social responsibility programs or improve existing ones;
The language of the event is English, the translation will be available.
Tickets:
until August 15 – 120 €
after August 15 and before the day of the event – 150 €
Partner discount: 25% (promotional code: LvBS_EPBS)
The date: September 26, 2019
Contact person: Elena Shershun, +380 63 767 32 72, olena@probono.org.ua
More about the event and registration:
On the European Pro Bono Summit site
On the Facebook page.
* The Summit is organized by Pro Bono Club Ukraine (a platform for meaningful partnerships of business and public sector) and the Global Pro Bono Network (the international community of intermediary organizations around the world).