Welcome to an exclusive workshop by Adrian Slywotzky, a business futurologist and one of the top 20 business consultants in the world. The theme of the workshop is 'How can small teams win in the global world?', and it will take place in Kyiv on February 27th.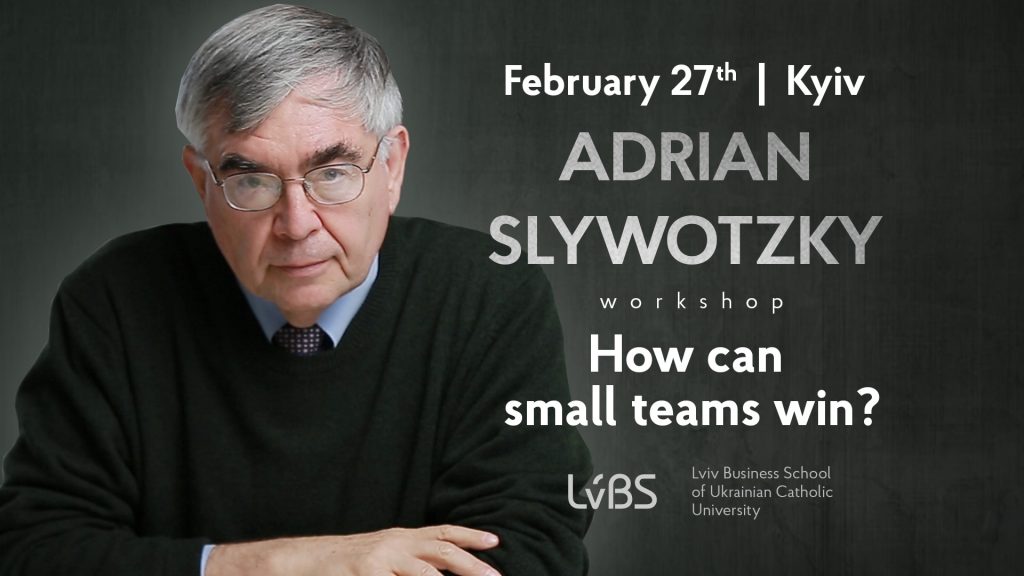 Today there are teams that turn $1 into $2, and there are some teams that make $20 from $1. How does it work with them? Where do we look for breakthrough ideas? How can we turn a small idea into a big one? How do we spend less to make more? How do you win a war when you are weaker?
The workshop by a contemporary guru of business management will provide insights to these questions. This event will give you a unique opportunity to visit a discussion of famous experts and to join the first original online course by Adrian Slywotzky and Lviv Business School of UCU, called 'David Wins: the Discipline of a Disproportionate Victory'.
Adrian Slywotzky is a Partner at Oliver Wyman Company. He is considered one of the world's top 20 business consultants and has twice been included in the Top 50 Business Thinkers list.
Adrian is the author of worldwide bestsellers on strategic management issues, and his books The Profit Zone and Value Migration were included in the lists of the best business books according to BusinessWeek and Financial Times.
You definitely need to participate in this workshop and register for the online course if:
      you're looking for new ideas in business, and you want an understanding of how to solve 'big' problems;
      you understand that there are a lot of opportunities in the global world, and you are looking for ways to capitalize on them;
      you are a small company/team with big ambitions;
      you want to find an effective tool to develop a strategy for your company;
      you want to be a part of a community of leaders who share the same values and learn from each other.
Event Programme
      16:00 – 18:00   Workshop by Adrian Slywotzky: 'How can small teams win in the global world?' (The language of the workshop is English with simultaneous translation.)
      18:00 – 18:30   Coffee break
      18:30 – 20:00   Panel discussion 'How can small teams win in the global world? Ukrainian cases' (The language of the discussion is Ukrainian.)
Discussion Points:
      How do startups change the world economy and create an era of anomalies? What does asymmetric competition mean? Is Ukraine in this game?
      How can Ukrainian startups win in the global markets? What can boost the creation of startups in Ukraine and from Ukraine?
      A leader's character and efficiency – how do they drive startups? Why does the growth of good leaders help startups achieve success?
      Creating corporate culture from Day 1: how does ethical leadership bring dividends?
Venue: Fairmont Grand Hotel Kyiv, Naberezhno-Khreshchatytska Street 1
About the Online Course
With this original online course by Adrian Slywotzky and LvBS, you will get to know in detail the model of asymmetric competition that consists of eight main levers: scale, mistake, speed, thrift, access, algorithm, magnetism, and story. This model can be traced in such famous leaders as Steve Jobs, Jeff Bezos, and Elon Musk. Moreover, the history of asymmetric competition has its roots in the distant past. In fact, David – though small and unarmed – managed to overpower the giant Goliath with a spear and a shield. One well-aimed stone can change the course of what seems a hopeless battle. The secret is in eight levers. During this online course, we will consider each one of them in detail, and analyze how leading international companies use these levers, and how you can use them in your own companies and projects.
Online course structure:
      10 modules*
      Home Reading
      Videos
      Individual work on tasks with your team
      Feedback from the LvBS team
      Follow-up with Adrian Slywotzky
      Course duration is two months: March and April 2020.
*Every week you will get study materials, videos with recommendations and explanations by Adrian Slywotzky, as well as work tasks and discussion tasks to do with your team.
More about the model of asymmetric competition and 8 levers
Price:
workshop – 1500 UAH,
original online course – 2000 UAH,
workshop + original online course – 2500 UAH.