«We request the suspension of PRME membership for those schools in Russia and Belarus, which have not publicly condemned the Russian invasion of Ukraine» – the request of the academic community of Ukrainian Catholic University and UCU Business school.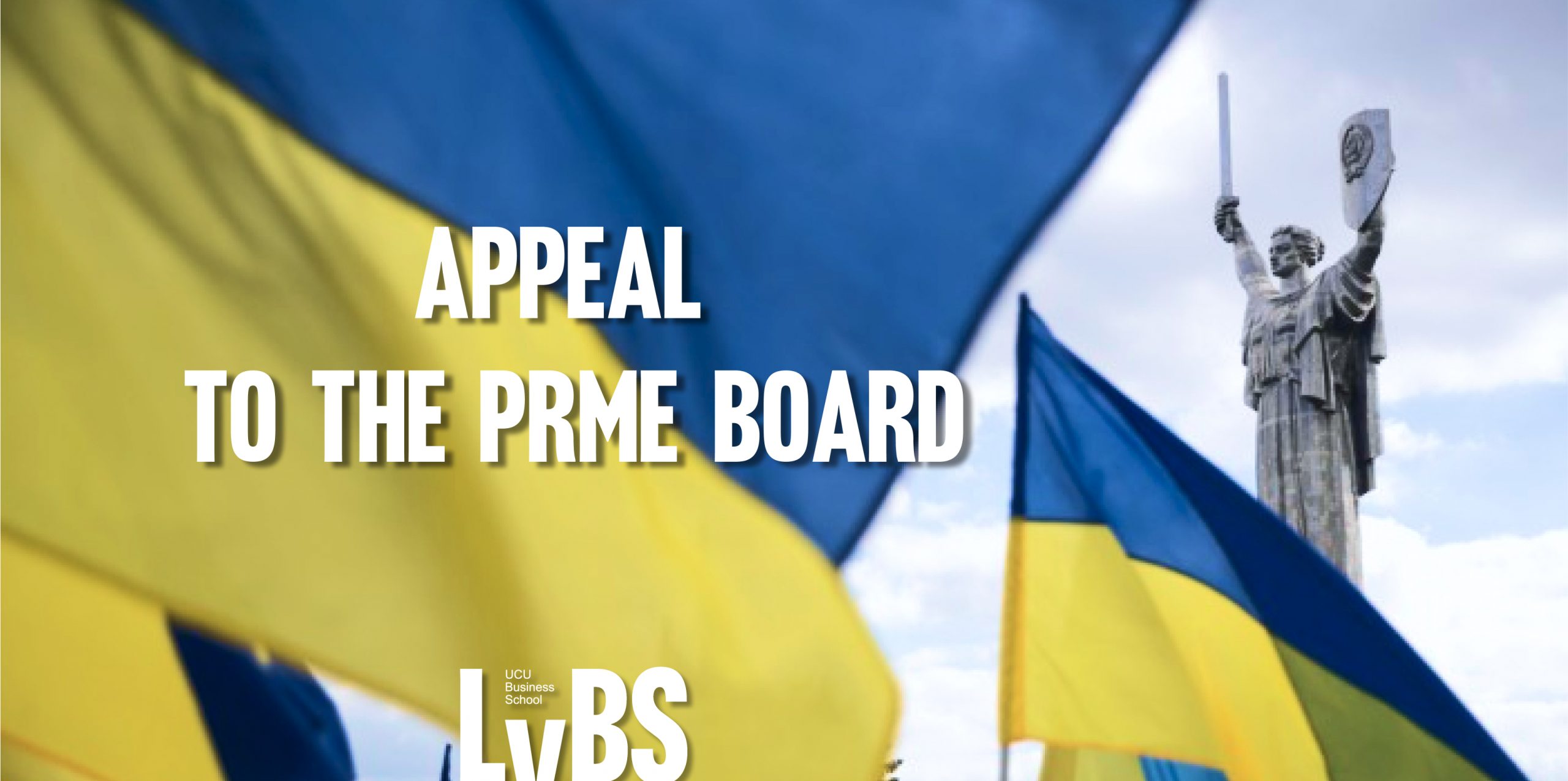 Dear members of the Board:
We are thankful for expressing your solidarity and support for the Ukrainian people and the condemnation of the Russian invasion of Ukraine.  
PRME's vision to create a global movement and drive thought leadership on responsible management education and transform management education and  to mission to develop the responsible decision-makers of tomorrow to advance sustainable development are vitally important, especially in the context of Russia's war in Ukraine. It is for the first time in the history of mankind that war is so connected with economic and business decisions, which are made by business leaders educated in business schools.  
United Nations-supported initiative – Principles for Responsible Management Education, founded as a platform to raise the profile of sustainability in schools around the world, equips today's business students with the understanding and ability to deliver change tomorrow, and has special responsibility for peace, freedom, and the prevention of dictatorship! At the same time hundreds of killed unarmed civilians – these are the realities in Ukraine: Mariupol, the Kyiv region, including Bucha and Irpen, was liberated from the Russian troops after a month of occupation. What happens in Ukraine right now is devastating. Every day more and more people die, more and more cities are ruined. Pictures of Bucha (a beautiful small town near Kyiv) can make any normal person sick: mass executions,  civilians being killed on the streets, lying there for days and weeks, half-burned bodies of raped and naked women,  robbed houses. 
The Russian educational sector must realize its failure to fulfill its primary function and its mission: to develop a humanist worldview. If tyranny and aggression win, we will all live with the consequences. The people who have caused such pain to our country, to the civilized world in general, have no right to make any more decisions and sit at the same table with those who make decisions in terms of world order.  
Developing responsible leaders for tomorrow, to advance sustainable development, should be a priority for all of us.  Thus, we request the suspension of PRME membership for those schools in Russia and Belarus, which have not publicly condemned the Russian invasion of Ukraine such as HSE Graduate School of Business, Higher School of Business, Kazan Federal University, IBS-Moscow, Graduate School of Management (GSOM) – St. Petersburg University, Lomonosov Moscow State University Business School, Department of Finance and Banking – RANEPA, EMAS Business School, Higher Business School of the State University of Management, City Business School, Moscow International Higher Business School MIRBIS, Graduate School of Economics and Management, Ural Federal University, Moscow School of Management SKOLKOVO, BUSINESS SCHOOL XXI CENTURY-CONSULT, IPM Business School 
On March 4th the Russian Rector's Union supported the war against Ukraine, collecting hundreds of signatures. The shocking support or silence of a vast majority of the scholars in Russia given the Russian invasion of Ukraine and the war crimes committed by the Russian army cannot be justified by any human and ethical standards.
To support or to keep silent in view of atrocities and suffering inflicted by Russia and its army on the innocent civilian population of Ukraine makes Russian academia equally responsible for the crimes against humanity. Sadly, the Belarusian scholars also remain silent observers of Russia's crimes against humanity in Ukraine. Their support of the actions of the Lukashenko regime as well as silent contemplation of the Russian invasion is also a crime.
We believe that in this situation the progressive world academia community should have its say. That is why we need your support right now. In our opinion, in the 21st century and 2022, perhaps the best answer to tanks, multiple rocket launchers, and rockets is closed access to high technologies, innovations, scientific research, and information support. 
We should unite all our efforts to stop the war now! 
The decisions of these days will shape our world and directly affect the lives of millions upon millions of people. 
Yours sincerely,
Sofiya Opatska, Founding Dean UCU Business School, Chair of the Board
Yaryna Boychuk, Dean of UCU Business School (LvBS)