On February 13, students, graduates, faculty and friends of Lviv Business School of the Ukrainian Catholic University met on the occasion of the 7th anniversary of LvBS Community and worked together for the benefit of the Anti-Terrorist Operation (ATO). The school set up volunteer workrooms, and all the guests contributed through their labor. Together we managed to produce 150 face masks, 100 guardian angel amulets, 10 kg of energy bars and 12 m of camouflage net. All these items will be transferred to soldiers in the ATO area.
While addressing LvBS Community, His Grace Bishop Borys (Gudziak), Eparch of the Ukrainian Greek Catholic Eparchy in Paris, pointed out, "Just 5 monthsago,wewerealmostinvisibletotheworld: what is Ukraine, where is it, what is its history?.. After the earth-shattering events in February and after the Crimean annexation began, Myroslav Marynovych and I 'camped out' on the doorstep of the European institutions in Brussels in early March. Our endeavors were not completely fruitless, but there was no widespread awareness of the situation. A lot has changed since then. Today we might not be fully happy about the world's response to the developments in Ukraine. However considerable changes have occurred indeed: many people all over the globe have finally seen us because the Maidan you all took to was mirrored in maidans across the world."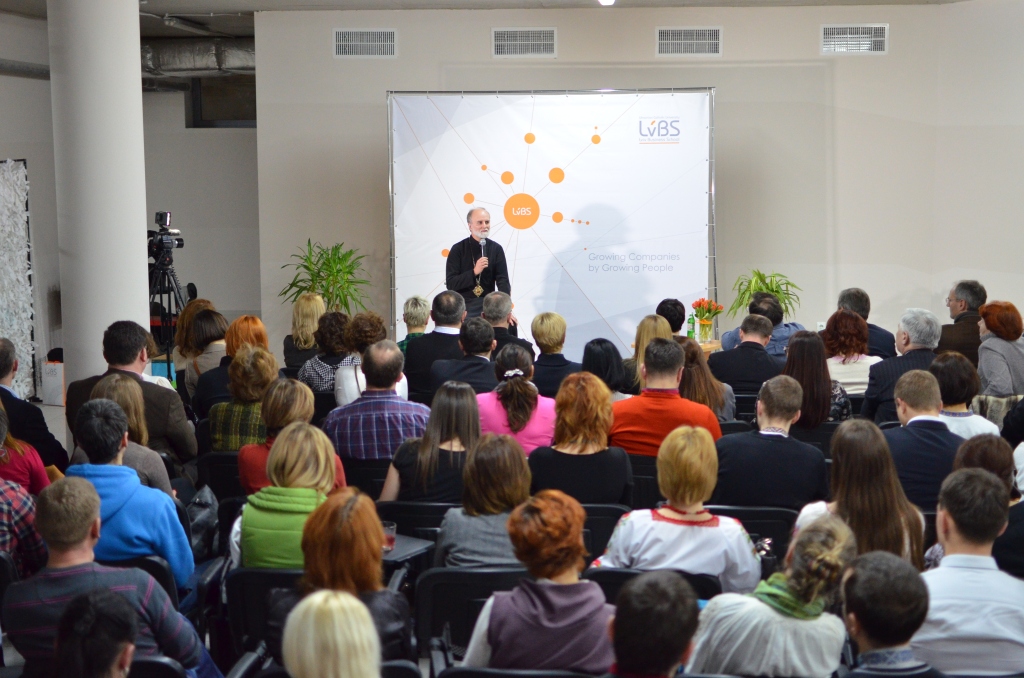 According to the President of the Ukrainian Catholic University, the notions 'Ukraine' and 'Ukrainians' have entered the global consciousness. "We have emerged on the map. Today, whether consciously or subconsciously, the Europeans ask themselves why the Ukrainians are giving their lives for this flag," he said.
The Bishop believes that each of our testimonies, each display of dignity and solidarity will not sink into oblivion. "Our other purpose is to help the Russians restore their dignity. Most tyrants in the world's history have met an ignominious end. It is essential to keep our chins up. Our pilgrimage is just beginning. There's still a long way to go," he summarized addressing LvBS Community.
Rev. Dr. Bohdan Prakh, Rector of the Ukrainian Catholic University, called upon entrepreneurs not to be afraid to step forward. "You are people who boldly move forward, who find time to learn and win. We cannot forget for a single moment that everything is in our hands: we must be the owners of our land! And we must bend over backwards to transform our country and break the mold of the old system," Rev. Bohdan Prakh added.
Sophia Opatska, Dean of Lviv Business School, said, "We have really experienced the spirit of LvBS Community in recent year when we have been able to rely on one another in any situation. I do believe that the recent year that we have survived together has made us stronger than ever, and we will be ready to transform this country. Let's help and support each other, let's stand by each other because together we can do so much more." Sophia Opatska also thanked all LvBS founders.
It is noteworthy that the meeting on the occasion of LvBS Community's 7th anniversary included fundraising for military helmets. 3,115 UAH were raised.