This interview was recorded by Sophia Opatska, Founding Dean and Chairwoman of the Supervisory Board of Lviv Business School at the Ukrainian Catholic University (UCU), Vice-Rector Academic Affairs at UCU with Gerard Seijts, professor of Organizational Behaviour, Executive Director of the Ian O. Ihnatowycz Institute for Leadership (Ivey Business School, Canada) in January 2020 in Davos (Switzerland).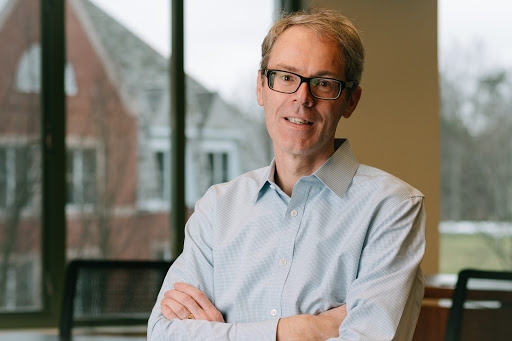 Often, we hear about leadership competencies and their development. Many workshops are concentrated on it. But your Institute is raising questions about character. So, first question – why does a leader's character matter?
For us [the Ian O. Ihnatowycz Institute for Leadership], the leader character question began with the 2008 global financial crisis when we have started to ask people in the highest positions at companies how leadership contributes to all of this. One of the surprises to us was the passion with which people talk about leader character.
What we heard in our conversations with senior leaders was that many of them believed that the downfall of organizations in the financial services industry was character-related. So, we are convinced that it is essential to focus on character and that we should find ways to instill the importance of character. Our focus is on awareness, assessment, and development of a leader's character.
That eventually led to the framework that we now have that consists of competencies, character, and commitment. We are of course not the only ones who talked about the importance of a lead character.
Somehow, we have forgotten about the importance of character in organizations, academic institutions, not-for-profit organizations, and so forth.
Subsequent research has clearly shown that it [character] contributes to the individual team and organizational performance. That enhanced our belief that character is important and should be elevated in importance and put at the same level as the competencies. They both contribute to performance, and so we should give it the attention it really deserves. The very first question we should ask is, "What actually is that character?" This word we use easily, but in the eyes of many people, it is very subjective. Furthermore, it is also an emotionally charged word.
And so at that time, we felt there was no language or vocabulary with which to address character in the workplace. They were looking at us like "go and figure it out."
That 5-year research program has then led to an overall framework that has 11 dimensions of leader character, and the associated behavior embedded in the elements is illustrative of these dimensions.
Since the character is so important, we need to develop it. How can individuals develop it? What are the tools?
Let me start with the easy one. It is to raise a kind of awareness. What we do at Ivey Business School, we simply talk about the stuff. We make lectures, presentations, write articles, and cases. We often work with some clips from the movies which clearly demonstrate some of those dimensions. We do all of this simply to make people aware of that significant construct. Still, you might watch a film, a clip, read a book, read cases and participate in a case conversation, and that doesn't develop a leader's character, not yet anyway. Character is something that we have to earn by doing. Even Aristotle said: If you want people to become virtuous, they need to behave in virtuous ways.
Virtues, especially moral virtues, are formed by habitual behavior. We become people of virtues and are formed by habitual behavior. We become people of virtue by developing certain good habits (and people of vice by developing certain bad habits). We become just by doing just acts, and we become brave by doing brave acts. In other words, our doing shapes our being, our conduct forms our character.
Interpretation of Aristotle's from the book "For the Beauty of the Earth (Engaging Culture): A Christian Vision for creation care".
For us [the Ian O. Ihnatowycz Institute for Leadership] as well as for your school [Lviv Business School of UCU] and leadership center [Center for Leadership of UCU], it is most important to be with people and to let them go through experiences. Learning always starts with experience. People need to feel it, to sense it, be able to touch it, go through this experience. But the experience by itself can be good or bad. Reflection is necessary. You must think about what happened. What didn't happen? Why did it work well? What could have been done for even better, and so forth? So, you need to reflect on what happened. The problem is that many people do not take the time to reflect – we tend to be in performance mode not in a learning mode. We then miss out on important lessons that may be embedded in experiences.
And out of that, reflections should come with a set of goals. Things to work on: "Ok, I could have done better. Ok, here is what I'm going to commit to." And then you practice, and then you get feedback where you make progress and start all over again. So, in many ways, it is just learning by doing. It is the only way.
What is the role of mentoring in character development?
I think mentors play a huge role in developing people. On a daily basis, there are a lot of kinds of opportunities; things happen good or bad. The role of a mentor is to sit down with you [a mentee] and make sure that those teachable notes of the lessons in a particular episode are not lost. When it comes to the development of leadership character, it plays a crucial piece. Sometimes you have to ask people to be your mentor. I have two, and I continue to ask them for advice and learn from them. These relationships have turned out to be very instrumental in my teaching and research.
Let me specify my question: how can a mentor be more effective?
I'm convinced that we should speak about a character in this case as well. The mentor has to be able to activate the dimensions of character to develop an effective relationship with the mentee. For example, he or she needs to bring candor in conversation and thus to show integrity. Those conversations are never easy, so they require great courage to tell people something they did not expect to hear.
Another piece that is required is humanity because sometimes the mentor has to tell a mentee that things are not going as he/she expected them to go. And it shouldn't be said in a disrespectful manner. The message should always be delivered with a sense of compassion, empathy, and understanding. And that's the humanity piece.
Participants of our programs at Lviv Business School of UCU are often wondering that many of those virtues, to some extent, contradict each other. For example, having courage and drive and be transcendent at the same time. They are in some tension.
I have two points to say about this. First of all, I think tension assumes that something is mutually exclusive. I don't think this is the case. In most real-life situations, the 11 virtues of character could be in some tension, but they are not mutually exclusive. For example, let's take two virtues: drive and justice. You definitely need to drive when you want to pursue excellence and want to increase organizational performance. People sometimes set incredibly ambitious goals, and at the same time, they forget about employees or clients, or other stakeholders. But your reputation as a leader and manager has to be seen as somebody who is fair and just. Otherwise, nobody will want to work with you.
My second point is that all leadership is always situational. Your actions, reactions, and your behavior always depend on a specific situation. So we need to be able to draw on the dimensions of character when needed. For example, a high level of drive and/or courage without the corresponding capacity for temperance risk reckless decision-making. As my colleagues Mary Crossan and Jeffrey Gandz have stated on many occasions, this lack of balance and integration between character dimensions is analogous to having a sports car with a highly tuned, powerful engine but a poor braking or suspension system. Sooner or later you may hit a wall at 180 kilometers per hour – will you survive the impact?
People sometimes say it is a tall order to master all 11 dimensions. I agree – and there are very few people who have mastered all of them on a consistent basis. I always say that the framework with the dimensions and elements is aspirational. You need to know where your weaknesses are and pay attention to what can reduce your effectiveness as a leader.
In character development, should we make an emphasis and develop first of all: our strength sides or weaker sides?
People often emphasize further developing our strengths. When it comes to character and looking at the model, I think that is not proper advice for reasons I alluded to earlier. Because when I work only on my strengths, for instance, on my drive, on my courage, my decisions and behavior may very well become reckless if I do not have or develop the capacity for temperance. You have to work on all together to produce favorable outcomes. If people want to work only on their strengths, I would say to be very careful. I have seen some great leaders working from their strengths but completely ignoring limitations and weaknesses, which eventually led to their downfall.
A CEO might ask about the ROI of a leadership development program in an organization. What is the correlation between Leadership Character and Organizational dimensions and key metrics?
It is interesting because I recently have written a paper about this question. When I do research with boards, I speak with them about the importance of character. At the end of the day, they always ask me about return on investment. So, we have decided to conduct a study to assess the ROI. We were able to determine the financial return of a focus on a character through a method known as utility analysis. The results we obtained matter! Because if not, then what is the point? Then we are back to question one. Why is it important? What is it related to? Do people want to find out what is the magnitude? Is it just a few dollars or more substantial? Now we see, a strong focus on the character can be quite substantial. Of course, the results may always differ by organizations. But the ROI can actually be determined.
Let's talk about Leadership development on an organizational level. How can HR departments contribute to this process?
The fast answer would be recruitment and selection. Simply selecting and promoting people based on character leads to a return on investment. There are several organizations in Canada that we are working with that are now implementing these kinds of systems based on character and led by professionals in HR and leadership development. Mentoring programs should be developed and implemented by HR departments. Furthermore, performance management conversations, socialization processes, and the approach to promotion can all be infused with character. The one thing I would like to stress is that a focus on character has to be supported from the very top. I say that because many people never had any conversation about leader character in their organizations – it may be a novel approach to many. People might be a little bit standoffish. It is therefore essential how leaders introduce the concept. Senior leadership may play a crucial role in helping to develop a character-based organization.
I would also say one way to legitimize leadership character importance is the language we use. Promoting someone, it should not always talk only about how effective this person was in a role by years and years of increasing sales by five percent, but talk a little bit about how he/she did it and which character dimensions were crucial for it. For example, he/she is promoted because he/she is one of the best collaborators we have. Things like that should be noted and supported. If we don't use this language, it is a signal to our colleagues, to our subordinates, that it is not important.
About the person:
Gerard Seijts – professor of Organizational Behaviour, Executive Director of Ian O. Ihnatowycz Institute for Leadership (Ivey Business School, Canada).
Gerard Seijts received his Ph.D. from the University of Toronto in 1998. Prior to joining Ivey Business School in 2000, he was on the faculty at the I.H. Asper School of Business at the University of Manitoba. Gerard is teaching in several leadership programs. For example, he has worked with organizations including Aecon, Intact Financial Corporation, OMERS, Ontario Teachers' Pension Plan, Maple Leaf Foods, J.D. Irving Limited, Hutchison Ports, Cigna, A.S. Watson, Bank of China Hong Kong, and many others. He has also worked with local governments in Canada and Hong Kong on issues such as leadership and change. Gerard has taught EMBA, MBA, and undergraduate courses in leadership, leading change, organizational behavior, performance management, and staffing.
His research activities, spanning journal articles, book chapters, and conference papers, cover a wide range of topics including leadership, change, goal setting, training and development, teams, organizational justice, and performance management. He also enjoys writing practitioner-oriented articles.