Maria Bay and Taras Fylypchuk are the founders of a successful family business in the city of Lviv. The results of their business truly surpassed their expectations. The couple is now the head of a global expeditionary logistics company that provides services in 49 countries on 3 different continents. In July 2016, the company will celebrate its 20th anniversary. The founders treat it like another child, along with their four others, and believe that their family business really made them the successful and harmonious people they are today.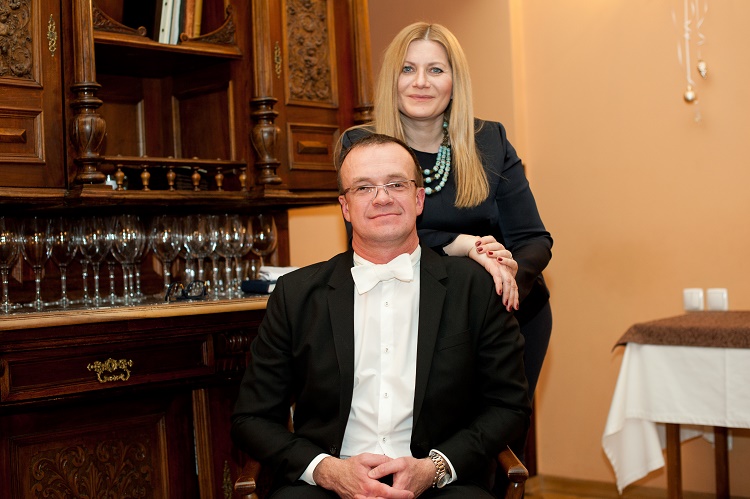 How it all began
Taras Fylypchuk (hereinafter – TF): It all started with my job transfer, we began transporting Lviv products. This transfer prompted the idea of starting a transport business. Eventually we stopped working only with the products and, instead, founded a transport and logistics company. At this stage it was just a small family business.
Mary Bay (hereinafter – MB): At the time (1996 – Ed.) We were "pioneers," practically pioneers. Around this time only about four Ukrainian companies transported into Scandinavian countries, particularly Sweden. Everyone knew it. If we look, the then-transport sector was quite amateur. Ukraine had virtually had virtually no transport fleet and no money to invest in one. We began our business in a special way, we focused on being exclusive and immediately became apparent.
Values and winning over the competition
M. B .: At this stage, we have a lot more competition. To a large extent we operate in "scarlet" ocean. Our business scope is quite complicated. Even now we are tirelessly seeking the harbor where there is "blue" water, free of "blood."
T. F .: When business brings something new, something challenging or something extraordinary, we constantly are reminded of our previous generations and feel much more confident. Our innovations have made it so that our customers trust us. They have realized that we are capable of doing more than all the rest. And it's not just how we create strong relationships with our customers, but the fact that we also work to create a custom, innovative plan for them.
M. B .: Every business is based on the values of its owners. We have always been a client based company. We try to find and use the best possible solutions in order to make our business interactions more efficient and satisfying for everyone. Our mission and goal is the optimized logistical efficiency of our partners. These features continue to help us today. From the founding of the company, we decided that the official language of our company will be is Ukrainian. This differentiated us from others. For example, in Odessa, companies did not want us to speak because we used the Ukrainian language. However, we did not retreat from our principles. For us, they were more important than money. Sometimes we have deal with the contrary. Some people learned to recognize our communication methods. People were constantly trying to recruit our people from us. Everyone knew that "Beat- Trance" was a good logistics school. The second important thing: from the beginning we were not afraid to work with foreigners, and we immediately went to international markets.
T. F .: Do not be afraid to be Ukrainian. There are many powerful international competitors and it is important to recognize that they have an advantage. We have a Ukrainian history of maximum 25 years. Meanwhile abroad there are family businesses that have formed over the centuries. It's a challenge, but it does not mean it cannot be done.
M. B .: When you begin to compete with international companies, you notice a striking difference in their skills, experience, and level of education. And of course we were scared. But looking back we really had no reason to be (laughs). I recommend doing so all Ukrainian. Remember: we are absolutely competitive. We may be in the so-called business-province on the periphery. However, we have the of knowledge of languages, the proximity to the border, the understanding European mentality that can be used very much to our advantage! For example, we take a job that is not even the outlines of our transit system like in the middle of Europe, in Russia or Central Asia for example.
T. F .: In addition to knowledge of languages and our prime geographical location, it is important to realize who you are, what you are capable of, your clients and the specifics of the work. Since the beginning we went through all the stages and work at all levels from A to Z. We understood the problem as carriers (technical, documentary, visa, permits), and the problems of the cargo. It was crucial that we knew and understood the situation on both sides.
How can one be successful and continue to develop their company?
M. B .: Business is a constant struggle. You can not retreat or give up, because if you do, you will lose your position, your edge. And if you lose at least a year in the market and your customer base, going back is not easy. So do not stop, and constantly develop and grow. That is what is important.
T. F .: There are different ways to develop the company. First of all, close communication with the cargo carriers at different stages of cooperation was extremely important for us. This understanding helps to build new solutions as various different problems and complications arise. If you do not continue to learn, you will never become a leader that drives your company forward. Then developing the company will not be easy. Be in attentive and constantly looking forward, perhaps this is the main success.
M. B .: One component of success is our team. United by common goals and values, we make the impossible possible. We teach each team member to reach their maximum potential. They perform their part deliberately and carefully. Their dedication and efficiency makes the overall result is high.
Specifics of the family business
M. B .: Our company being a family business makes running it a little easier. We are much better at finding common ground between us. We can always consult with each other and other parties. This does not happen nearly as often in a partnership business. We have managed to avoid difficult and uncomfortable situations. In our company, we just have the two us of and a common goal of evolving and growing.
T. F .: Even though we often have different views, our common goal unites us. It's like a puzzle, looked at from all all angles, consulted and developed. This mutual support is very helpful. I believe that everything is harmonious. Although perhaps for someone on the outside this looks different. If we were wholly committed to the business we would not spend so much time with our children. Yes, we often take our children on business trips. I think it helps us to combine family and business. Children grow up open, communicative and understanding what our business is all about.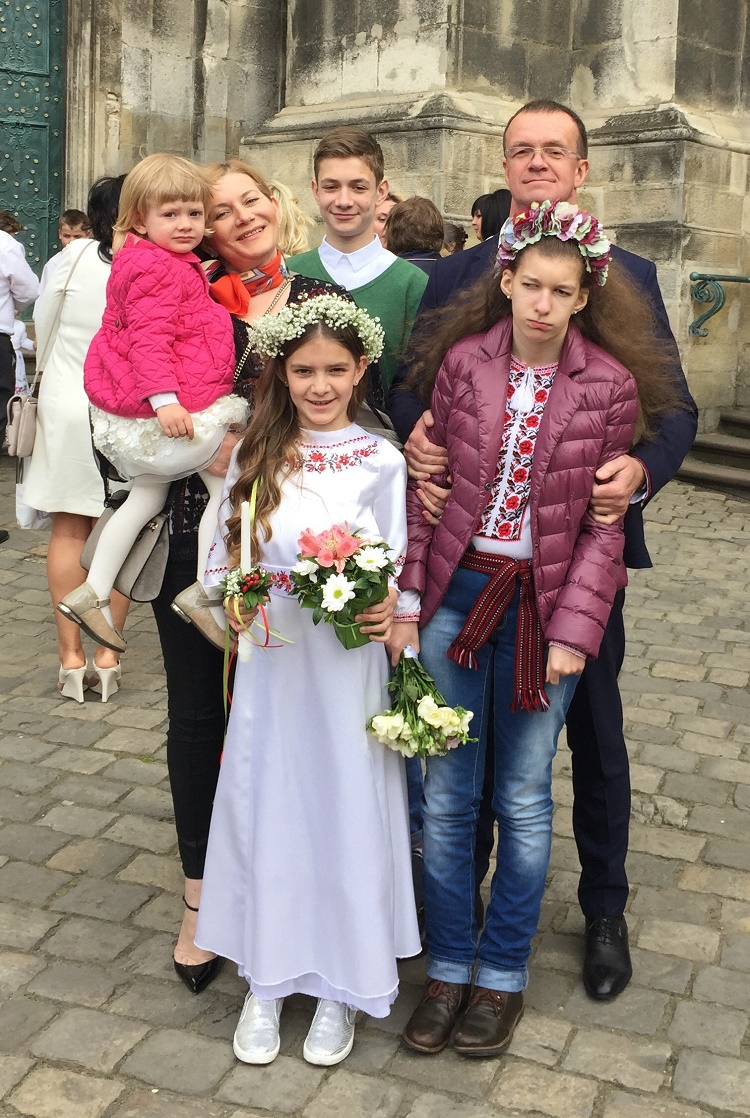 M. B .: Being on maternity leave, I sometimes would sometimes become distant from the work of my business. I always worried about this. When you and your husband are the owners of the company, if one leaves it could completely fail. That's why I never fully remove myself from work. But from time to time I could not perform all my functions perfectly. We have four children, and our responsibilities as parents cannot wait 20 years. Our children need attention now. At the same time, this becomes problematic because our business is really like another child. And we love it and cherish it. We gave birth to it after all! You see that it also needs to be given a lot of time. We have been trying to explain to our children what a business is and how ours works. When our son was younger, he was jealous and asked me: "Do you like workers more than us?" (laughs). We argue that business is not just a way to make money, it is the responsibility of the vocation and life.
On business education
M. B .: When I first came to UCU, I realized that the people that attended school here held very similar values to myself. In 2010, when we came to Lviv Business School of UCU, we weren't really sure what to expect, because the school was then only 2 years old. But we decided that we should support them, because they were similar to us. We went to study together, as we felt we would better understand each other and speak "the same language" after studying alongside one another. Because even if you study in the same business school, as time goes on, things change and the education changes. Getting a business education together, we understood what it was about. We were able to learn and work together and impose what we learned on the life of our company.
T. F .: For me, the business school has become a community of friends, teachers, people that at any time I can call with some problem, for advice or just to meet for coffee. Our circle of friends at UCU continues to expand, and we love it. We feel "at ease" and the Lviv Business School gave us this wonderful environment.
M. B .: Lviv Business School is a place of vast knowledge and a welcoming and professional environment. In terms of UCU, even our children know our friends from the university. We love attending events that take place around the university because we know that this is the right place not only for us but for our children. UCU is a place for the new leaders of a reformed and successful Ukraine.
On social responsibility and team climate
T. F .: The social responsibility of business is often a requirement of our customers. As we work with international global companies, we have to answer to their standards. It is good that these requirements overlap with our vision. Environmental issues, responsibility to employees, security are all our priorities. Our employees and their families, children, they are also part of our 'extended' family. We spend a lot of time together and share wonderful moments together.
M. B .: We are a company that is serious about environmental issues. We have successfully minimized paper circulation (as possible within our legislation). For over two years our archives are exclusively electronic. We only use paper when absolutely necessary. As for the relationship in the team, then we have a number of events for employees. We began a tradition of Easter eggs before Easter. We also celebrate the anniversary of the founding of the company in July. This year we are celebrating 20 years! In the fall we plan various regional excursions. In the winter we celebrate St. Nicholas Day, and in the New Year we celebrate Malanka. We try to visit the theater as well. In our corporate events we try our best to also attract the children of our team. What is also important for our team is having decent salaries.
What is the hobby that brings you the most joy and what does it mean to you to be successful?
T. F .: For me, success is to be happy. We love to travel and to explore the world. Sitting in one place is just not our style. Even with an 8-month old child we flew across the ocean! Now we enjoy discovering local history in Ukraine with our family, which we plan and organize ourselves. We also really like to do sports. We have gone skiing in the winder for almost 40 years now. In the summer, we like to go for runs. My wife always says to me: "War is war, morning physical activity must still be part of the schedule."
M. B .: Being healthy and happy are my two criteria for success.
As for hobbies, I love to read. And outings, I especially like to venture to the Carpathians. The Carpathian Mountains are beautiful in any season, but for me, they are especially fascinating in the fall when the mountains are multi colored. Just spectacular!
In a life full of wonders, you really need to notice and acknowledge them. My secret to success has been learning to notice them and catching moments of happiness everywhere: in the mysterious of children, in great weather (There is no bad weather), the fatigue of hard work, in dealing with parents, in riding a bike, in good news or in brief respite. In short, everything! And that is where I draw my main inspiration.
Interviewed by Roxolana Kravchuk
This material was published in the journal Insight LvBS Inside # 1. Get a copy of the journal at the reception of the Lviv Business School of UCU (LvBS), Str. Kozelnicka, 2A, 3rd floor.