Forbes has learned the amount of money spent by Ukrainian immigrants abroad. The good news is that Ukrainians are not as poor as the State Statistics Committee and Europeans thought. The bad news, however, this money is washed away from Ukraine and works for the European economy, not the Ukrainian one.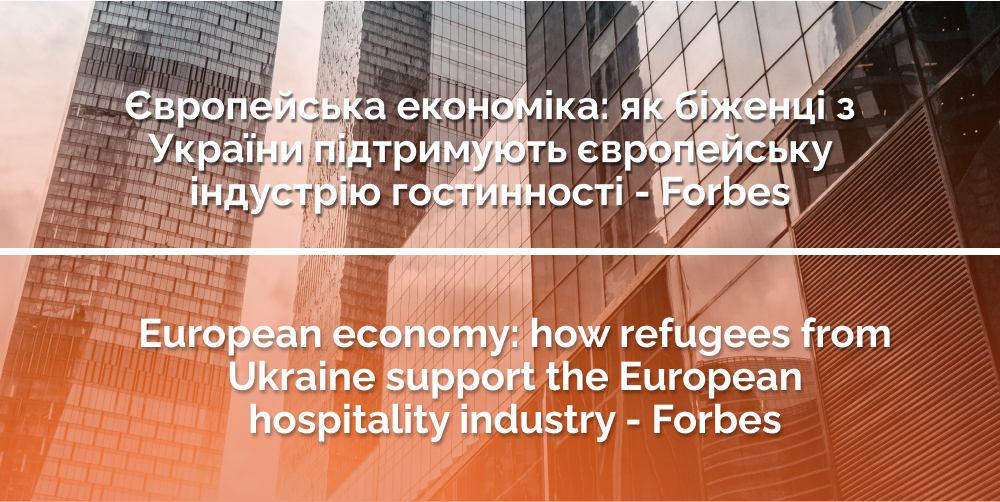 In April, Ukrainians who went abroad over the war with Russia spent about $ 2 billion there, paying or withdrawing cash from Ukrainian bank cards. This was reported by the representative of Ukraine to the World Bank Roman Kachur, citing data from the National Bank. « It turns out that our refugees are not exactly refugees, but rather wealthy tourists who actively support the European hospitality industry», says Kachur.
The NBU press service confirmed these figures. 80% of the $ 2 billion spent in April was used for paying for goods at the pos-terminals of the retail network and for withdrawing cash.
Most of the money, paying by card, our citizens spent on:
17% – payment in grocery stores / supermarkets;
11% – purchase of non-food items;
8% – payment for hotels;
5% – operations at gas stations;
4% – payments in cafes/restaurants etc.
Apart from these data, Forbes calculated how much Ukrainians spend on mobile services:
Estimated costs for April
According to Forbes, Ukrainian FDPs pay more than $ 45 million a month to mobile operators – an average of $ 12. Refugees save about $ 12 million a month through humanitarian aid and special offers from operators. In Poland they spend the most – almost $ 7 million. In Germany, most people avoid high tariffs thanks to free sim cards from Deutsche Telekom.
If you compare with last year's statistics on foreign spending, you can see 3-4 times growth. «In the second half of 2021, Ukrainians paid $ 500-700 million a month in the networks of non-resident banks. Up to $ 50 million was withdrawn at ATMs in cash," said Mykhailo Demkiv, a financial analyst at ICU.
The reason is obvious: the war forced millions of Ukrainians to seek refuge in Europe. According to the Minister of Social Policy Maryna Lazebna, more than 5 million Ukrainians have left the country since the beginning of the war. 4.5 million of them went to neighboring countries, including more than 2 million to Poland. At the end of April, Forbes used data from mobile operators to calculate where and how many Ukrainians live. It turned out that the largest recipient countries are Poland, where more than 1 million Ukrainians live, the Czech Republic and Germany – 350,000 and 300,000, respectively.
The departure of millions of Ukrainians (mostly women with minor children) has significantly reduced domestic consumer demand. Ihor Mazepa, the founder and owner of Concorde Capital investment company, spoke about this in an interview with Forbes. Instead, having moved, Ukrainians are making a significant contribution to the EU consumer market
(statistics: consumer spending in the EU as a whole in 2021 is € 6.86 trillion, according to Eurostat). «Given the number of refugees, it turns out that every Ukrainian invests $ 400 a month in European economies», Kachur said.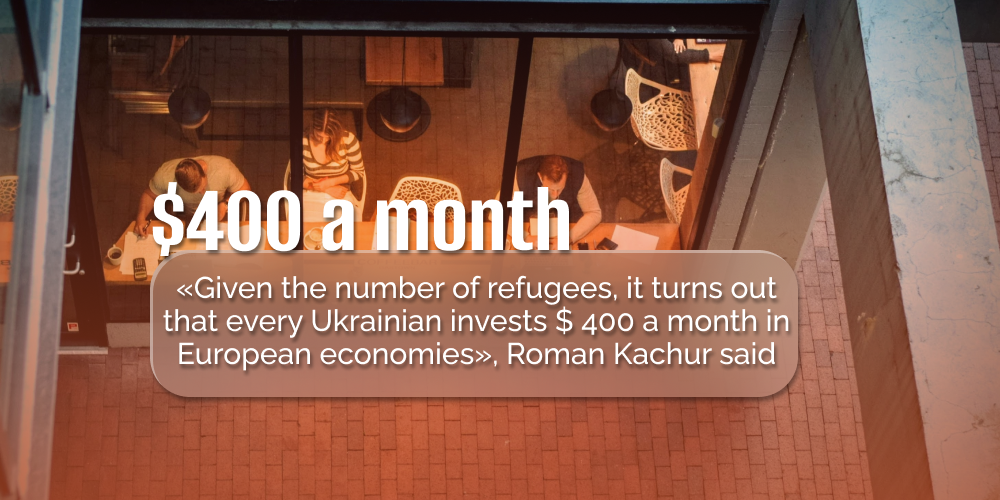 The National Bank calculates in a different way: they take data from the Office of the UN High Commissioner for Refugees, according to which 6.4 million people have left Ukraine. Consequently, in April, every Ukrainian paid an average of $ 125 (equivalent) with a card and withdrew about $ 150 in cash at an ATM.
Can we say that Ukrainian immigrants are not a burden, but a consumer driver of the European economy? Unfortunately, there are no statistics yet that would allow economists to make a thorough analysis, says Maria Repko, deputy director of the Center for Economic Strategy. «Support in various countries and their costs are different and the refugees are different, so it is incorrect to compare.Nobody collects or keeps such statistics,» Repko assures.
Since the beginning of the war, all Ukrainians who left for the EU have spent about $ 1.5 billion from their payment cards in retail chains, the press service of PrivatBank reported. «PrivatBank's clients have spent about $ 700 million since the beginning of the war», the bank's press service said. The total amount of non-cash payments in the PrivatBank network for March-April was approximately $ 2.3 billion (statistics: at the official NBU exchange rate – $ 29.25). That is, a third is accounted for by foreign
payments. The bank does not say how much cash Ukrainians withdrew abroad.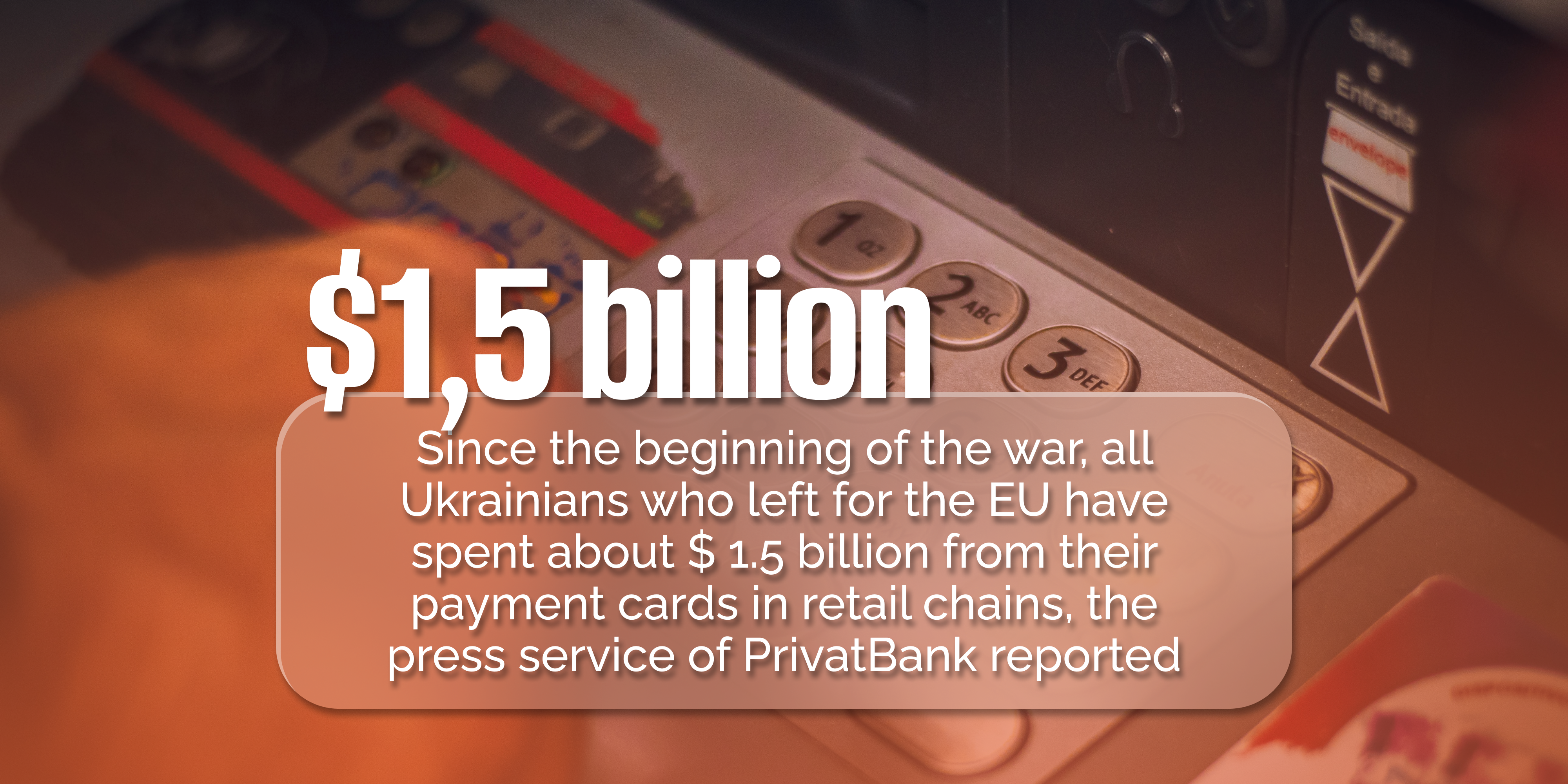 In March-April, monobank's land trade operations with customers abroad amounted to $ 159 million (reference: at the official NBU exchange rate – $ 29.25), and in Ukraine for the same period – to about $571 million, said the founder of monobank Oleh Gorokhovsky.
Unfortunately, both banks could not report the structure of Ukrainians' expenses and the amount they withdraw from ATMs. However, monobank provided data on how much and in which countries Ukrainians spend their money. Most monobank customers spend in Poland, Germany, and the Czech Republic. But if you look at the average check of the transaction, the leaders are Austria (almost € 28), Italy (€ 27) and Spain (€ 24), the least – in Poland (€ 13.3).
Source: https://lvbs.top/mqk