To fill a gap, Ukrainian Catholic University in Lviv is introducing a master's degree program in public management this fall.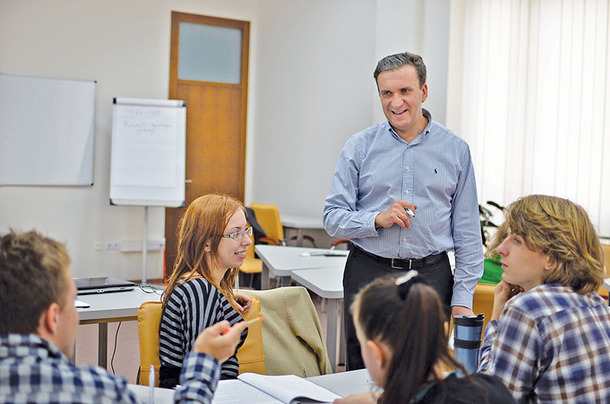 The new program is in response to a dearth of qualified state administrators, particularly after many city managers were elected to Ukraine's Parliament in October, said former Economy Minister Pavlo Sheremeta, who will head the new school.
"There is no institution in Ukraine to prepare modern public managers," said Sophia Opatska, the director of the Lviv Business School, which is partnering with Ukrainian Catholic University. She pointed out that there is the state-run Academy of Public Administration in Kyiv, "but it hasn't brought the expected results in its 23 years, despite having huge resources."
The Catholic university applied in mid-April for the school's license with the Education Ministry in hopes to have 25 slots filled by September.
The year-and-a-half program involves independent study and classroom sessions to be taught by five professors from other university departments and guest lecturers. The university's prominent history professor, Yaroslav Hrytsak, will serve as the school's department head.
The school's curriculum consists of up to 10 core courses such as public policy, strategy, finances, human resources and professional ethics. Future civil servants will then choose if they want to specialize in local government, European relations or public policy.
Besides theory, they will take part in role-playing workshops, work with case studies and on different projects, write research papers and serve in internships.
As is common in American universities, according to Opatska, the Lviv Business School will provide organizational and marketing support for the new department, as well as open its classes to public administration students.
The school will seek to enroll both experienced state officials who want to improve their skills, as well as university graduates who wish to enter civil service.
Sheremeta said tuition will rival similar programs at Lviv Business School and Kyiv Mohyla Business School for which he also played a key role in launching.
The financial plan is for the school to cover its own costs with tuition as part of its "high-value, low-cost" approach. Other Ukrainian Catholic University study programs, such as in theology and philosophy, need support beyond student tuition, he said. The new school will be based at the university's Kozelnytska Street campus.
Opatska expects entrepreneurs in the Lviv Business School network to contribute financially, such as in 2014-2015 when they helped with the three-month Good Governance program that served as the building block for the public administration school.
Admissions details will be announced after the school obtains its license, Sheremeta said, mentioning only that they will be based on a Western model, requiring interviews, essays, resumes and recommendations.
Assisting Sheremeta in organizing the school was Terry Anderson of Troy University in Alabama, who came to Lviv in February to collaborate.
She has experience in the post-Soviet sphere, previously serving the government of former Georgian President Mikheil Saakashvili in organizing public administration and public relations.
"The program I developed is pretty similar to my students' program at Troy University," she said. "The core is almost identical."
Besides the master's degree program, the school will organize programs with local governments. The first began on April 17 with a three-day discussion led by American management guru Adrian Slywotzky.
A six-month course is being financed by the Lviv City Council for 44 of its officials, who will develop projects for implementation, Opatska said.
Kyiv Post staff writer Yuliia Sosnovska can be reached at jul.sosnovska@gmail.com.