"Fighting corruption is possible only if it is part of the reforms. To fight it separately is impossible, just as it is impossible to introduce reforms to a corrupt environment," Larisa Burakova, author of the bestseller Why Did Georgia Succeed? and consultant for UNECE, said during the Anti-Corruption Forum in Lviv.
Nearly 200 participants from all over Ukraine took part in the Anti-Corruption Forum and Hackathon as part of the School for Responsible Citizens. For three days, experts, community leaders, civil servants, and entrepreneurs discussed methods of combating corruption in Ukraine and came up with specific models of behaviors for ordinary citizens: how they should act when they are asked for a bribe.
Anti-Corruption Forum was opened by UCU rector Fr. Bohdan Prakh and Lviv Mayor Andriy Sadovy.
Inna Sovsun, Deputy Minister of Education and Science of Ukraine, believes that fighting corruption is critical, but without systemic changes nothing will happen. "It is not enough to have good people in parliament for laws are enforced by those who work in the executive branch. There are still very few people there who are ready for change. We must set ambitious goals: to eradicate not only the consequences but also prerequisites for corruption," says the senior lecturer in political science at Kyiv-Mohyla Academy.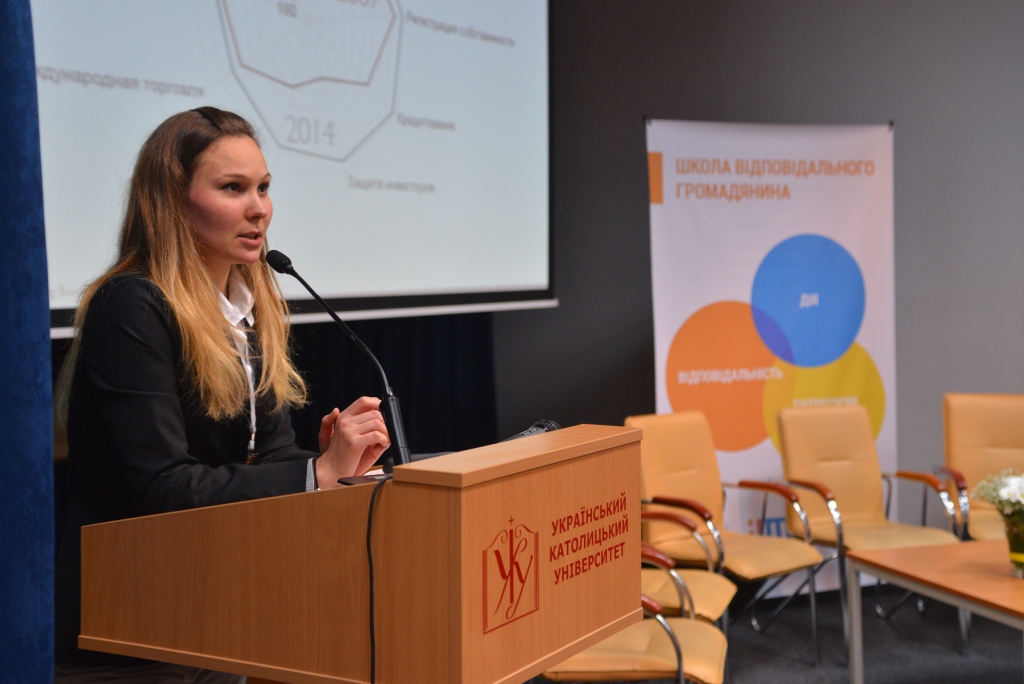 At the forum Larisa Burakova spoke about Georgian reforms and how this experience can be applied to Ukraine: "Without radicalism there is no reform, especially if the case is complex. Reforms in Georgia did not occur only from the top. It was thanks to the revolution that reformers came to power, that is, it was demanded from below. In Ukraine, the demand is very strong, but there is a problem with the political will of political elites."
Vice Rector of UCU Myroslav Marynovych, also referring to the Georgian reforms, added: "In Georgia, before the reforms came from above, a motivated group of people appeared who said they want to change the system, and society responded to it. Ukraine needs a critical mass of people who want to not only get in the Supreme Council, but want to live up to other values."
Yevhen Hlibovytsky, an expert on long-term strategies and founder of the company pro.mova, stressed that corruption is a life support system for Ukraine. "If we disconnect, the body stops working. That is, if tomorrow corruption disappears, then disappear medical services, traffic rules, and many other things. On the one hand, existing in this system is deadly. On the other hand, we need to break it. But we need to be prepared, because our transformation from a state of corruption to no corruption is very complicated. If we want to see reliable results, we must understand that this will take a whole generation."
Andriy Palianytsia, a consultant to governments and international organizations on regulatory policy and public administration, explained what anti-corruption tools can be applied: "It is important to reduce regulations, automate services, and for the community to control these processes. Why do these mechanisms not always work? Because we often digress. But now we have a great public demand for change and it gives us a chance to break the old scheme."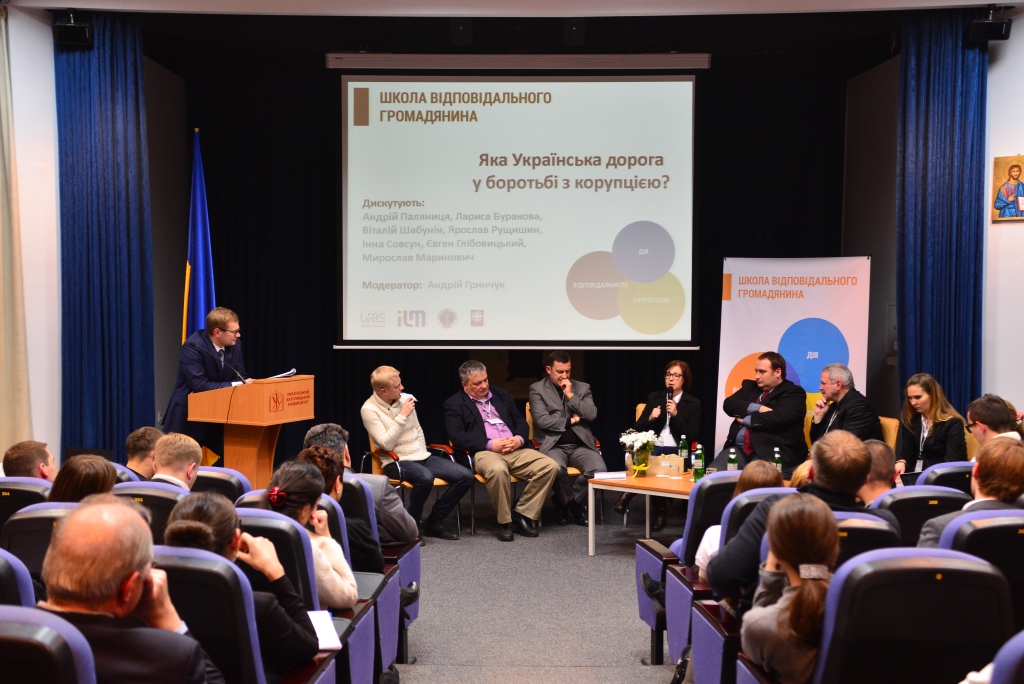 "Corruption can be fought for corruption always has a surname," Vitaliy Shabunin, a coordinator at the Anticorruption Action Centre, said during the discussion. "When we talk about corruption without mentioning surnames, tools, and specific actions to overcome it – it's just chatter. Therefore, it is necessary to appeal to specific people and punish corrupt officials."
Olha Tymchenko, a spokeswoman for Transparency International Ukraine, said one should not be afraid to report cases of bribery: "Every official report from us, ordinary citizens, is extremely important. The more these beacons, the more opportunities to fight corruption."
Yaroslav Rushchyshyn, entrepreneur and social activist, proposed closing all universities where you can buy test results and where, therefore, future corrupt officials are bred: "Legislative changes are not enough to eradicate corruption: we need talk about systemic changes, shape models that root out the preconditions of corruption, introduce new management practices. It is important to not just change the system, but also to punish people who have been involved in major corruption schemes," concluded the director of Trottola.
The Anti-Corruption Forum included on a two-day hackathon. On November 28-29, over 80 people from all over Ukraine together with mentors developed models of behavior of how to fight corruption for ordinary citizens in 5 areas: medicine, education, police, customs, and administrative institutions. Before the expert jury they developed 9 projects, which the organizers will present in 6 cities of Ukraine during the next year.
The School for Responsible Citizens is a project, which aims to create a platform for discussion of the challenges in the fight against corruption. Our task is to understand and outline a practical model of how to deal with corruption. The project is implemented by the Lviv Business School of UCU (LvBS) and the Institute of Leadership and Management UCU. The project is supported by the US Embassy in Ukraine and Caritas Germany.