David Braun, co-founder of TemplateMonster Company (USA), came to Lviv to share his secrets of success in life and business, and also explained why right now Ukraine has a unique opportunity to make a breakthrough.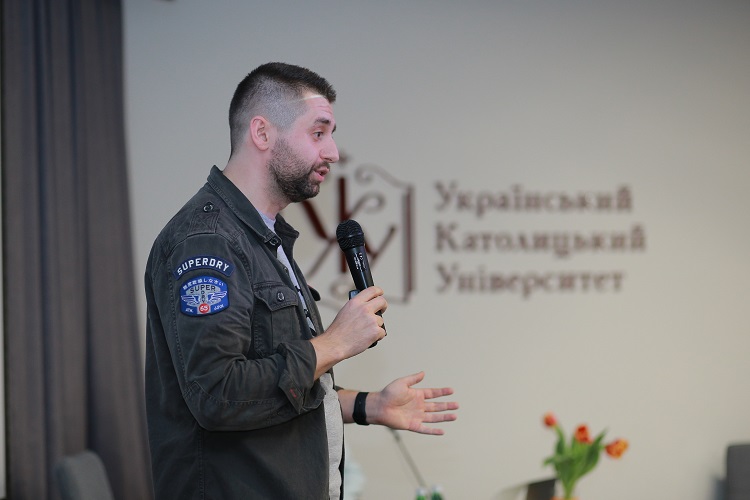 Wake Up Meeting #3 took place in Lviv on April 7. It was arranged as a part of a joined project of UCU Lviv Business School and the Creative Quarter. The aim of the project is to promote innovations, encourage the development of product companies and entrepreneurial IT movement in Lviv.
David Braun (Davyd Arakhamiia), 35 years old. Born in Georgia. At the beginning of 1990s, during Abkhazian war, his family moved to Ukraine. "Being a fourth-year university student, I decided to try out the notion of a start-up. Since then and up till the war (in Ukraine) broke out I spent my days managing the company. When military action began in the East of Ukraine I set up a crowd-funding platform called People's Project (www.peoplesproject.com), I support the army doing volunteer work, and also occupy the position of the Head of Volunteer Council at the Ministry of Defense of Ukraine", says David.
David was educated as a marketing specialist, but he refers to himself as an "inborn" salesman. During the meeting he shared the story of setting up his business and making his way through mistakes and failures to a large and successful company. He also shared his experience in counteracting hackers, crisis management and peculiarities of the volunteer movement supporting the Ukrainian military.
We have prepared an abstract with the most interesting ideas voiced during David Braun's masterclass "Entering global market or staying in Ukraine: a difficult conversation about complicated decisions in IT".
I have discovered for myself that there are 3 main secrets of success, both in life and business:
Faith. It's very important to have faith. If you do not have enough faith in your own idea, you will never succeed.
Courage. Sometimes it's courage bordering on foolishness. It is necessary to have it, none the less. They say that people with MBA do not venture into start-ups, since they know of all the risks that exist in this sphere. Still, for the start-up to be successful, it needs exactly a person like that, a person with MBA. Therefore, a courageous person.
Communication. I believe that many projects "crumble" and fail because of peoples inability to communicate, to discuss, and to agree. In reality, people are mostly reluctant to restrain their own emotions in order to reach an important common goal. The ability to converse and understand each other is extremely important.
Success Lessons from David Braun
I've always heard about the mistakes of others, but somehow always had to make my own to learn. On the whole, though, not all mistakes in life have negative consequences. And this is a relief!
Lifehack for ІТ: If you need to save some money – sell a kidney, but hire a good lawyer!
We (TemplateMonster Company) are already represented at the market of 17 countries. By the end of the year this figure will increase to 43. Sales in Ukraine are very small, but the creation of Ukrainian language version is beyond any doubt.
We (Ukraine) are not a part of Europe yet, and this is our advantage. Ukrainians are extremely poor. So people's wish to contribute to their well-being forces them to look for new ideas, new solutions, and new ways out. And this is a unique opportunity for our country, we have to take it.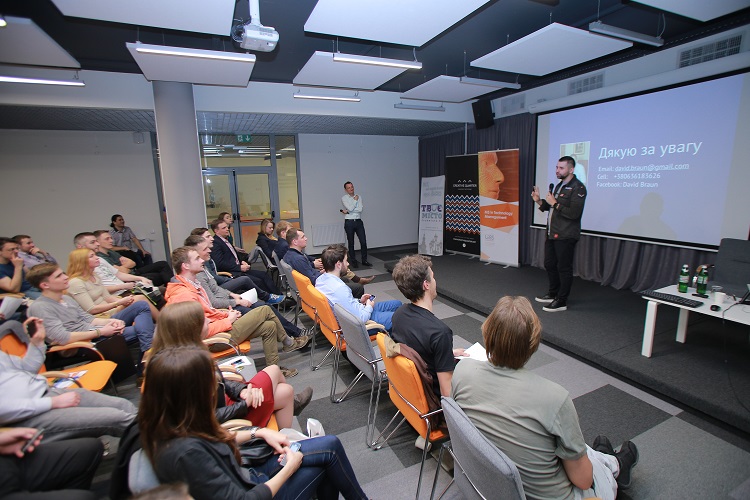 Apart from the traditional lecture and Q&A session this time the Wake up Meeting had an additional useful component: Anton Skrypnyk, CEO and co-founder of KindGeek, IT specialist and LvBS MSc in Technology Management program graduate, assumed the role of a Key Learner and voiced his managerial conclusions, based on David Braun's masterclass.
Here they are:
The level of proficiency in English is very important.
Values bear great significance for work and achieving success.
You have to persevere and never give up.
It's important to understand that job market has long turned global. It's like buying potatoes in the supermarket: even though we live in Lviv, on the shelves of the supermarket our local potatoes has been long competing against Israeli ones.
Creativity is very important. Being creative helps you to make successful decisions.
It's a good quality to be "reasonably lazy": instead of IT outsourcing, one should better count on creating a "break-through" mass product.
One should never quit searching. The desire to find something new is essential.
Risk management can by no means be overlooked.
Main thing is to focus on the results.
Information note: UCU Lviv Business School in cooperation with Creative Quarter founded the "Wake up meetings" project aimed at those involved in IT. The aim of the project is to promote innovations, encourage the development of product companies and entrepreneurial IT movement in Lviv. There are 12 masterclasses scheduled for 2016 as a part of the project. The anticipated speakers are successful Ukrainian entrepreneurs who already created their product companies and gained world-wide recognition. They will share their experience and offer some practical tips on how to make first steps on the road to success. Yevhen Sysoiev and Vlad Voskresenskyi were the speakers at the previous Wake Up Meetings.