34 public administrators from various regions of Ukraine became graduates of the second Good Governance program for an innovative approach to governance. Having completed training at the Ukrainian Catholic University, they are equipped for professional work in the public sector aimed at implementing real changes and reforms.
"At the end of February 2014, we started thinking how our University could respond to the events in Ukraine. We realized that we lacked a school like Harvard Kennedy School and that we were in need of people capable of shaping public policy in this country. That's how the Good Governance program originated. It is essential for us to create a community of people that share similar values and that can stay in touch and support one another. The aim of the program is to equip its participants with a wide range of knowledge and skills that will be relevant to public servants in the near future," says Sophia Opatska, Dean of the UCU Lviv Business School.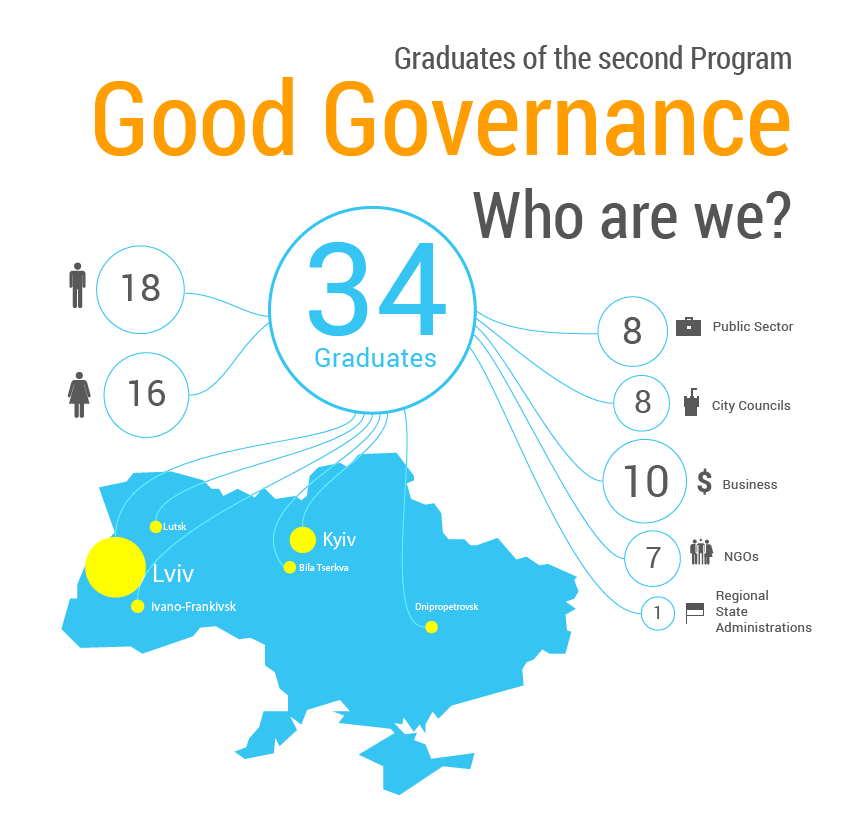 The program embraced three training modules and offered such courses as "Lustration", "Advocacy and Lobbying", "Institutional Organization of Public Authority", "Collaborative Governance", "Local and Regional Finance", as well as the following decision-making topics: "Leadership and Authority", "Change Management", "Negotiations" and "Adult Learning". The final assignment within the program was to develop an anti-corruption project. The participants analyzed the applicable legal framework, explored the causes and consequences of corrupt behavior in public administration and put forward a specific action plan to combat this phenomenon.
"While working on their projects, not only did the participants analyze corruption as a phenomenon, but they also came up with a clear-cut action plan for how to behave once you have been embroiled in a corruption scheme," remarks Natalia Bordun, Director of the UCU Institute of Leadership and Management. "The simplest and the most practical ideas, in my opinion, included a 'crib note' for a driver when stopped by the traffic police, monitoring of healthcare institutions (hospitals, clinics) regarding the use of medications they receive for free, an instruction leaflet for a student on how to secure an objective grade. All these are very simple and easy to follow plans of actions. You just need to go and do it."
The participating public officials also had a series of interesting meetings as part of their training. Specifically, during the training module in Kyiv they met with Dmytro Shymkiv, Deputy Head of the Presidential Administration; Vladyslav Rashkovan, Deputy Governor of the National Bank of Ukraine; Zurab Alasania, CEO of the National Television Company of Ukraine; Valeriy Pekar, an entrepreneur and social activist. During the final module in Lviv the public administrators took part in a discussion with Jaanika Merilo, an advisor to the Minister for Economic Development, as to potential e-governance implementation in Ukraine. The Good Governance graduates were also actively involved in the Anti-Corruption Forum and Hackathon.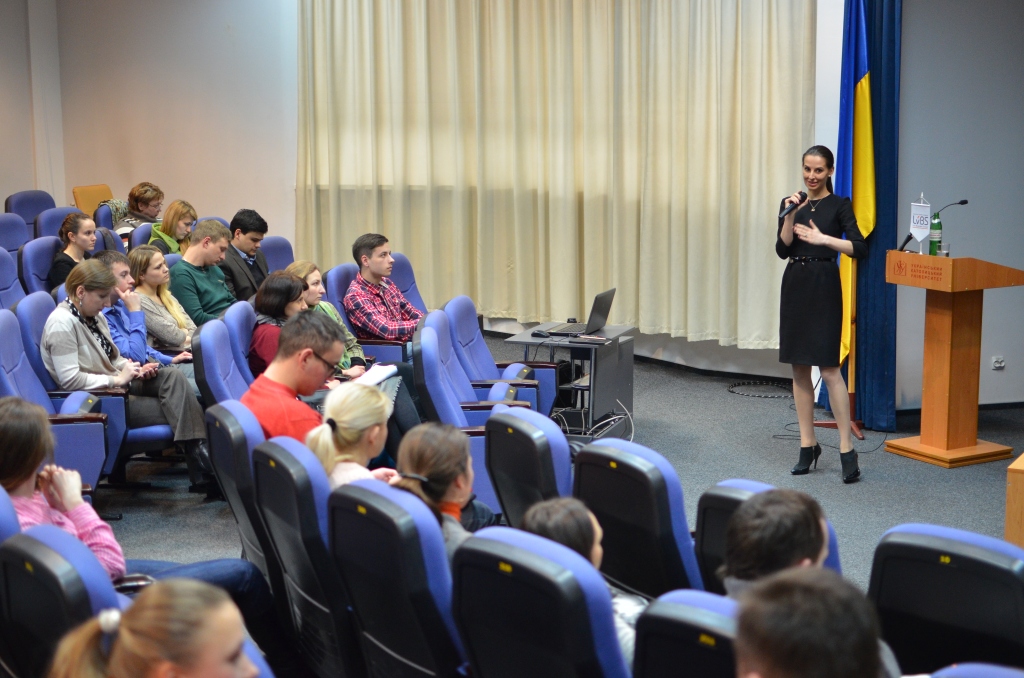 During the final module the public servants attended a course by Dr. Terry Anderson, Professor at Troy University and expert in public administration. She came to Ukraine within the Fulbright Program. "What Ukraine is lacking is the collective will to demand change. You have the right to demand the public sector you want to have. Big changes begin when one person steps to the fore, takes that risk and shoulders the responsibility for implementing changes. The Ukraine you want is sitting right here, in this room. None of the Western countries will say, "I don't care about Ukraine", but none of them will do for you what you must do yourselves. If you want change, demand it and create it yourselves," Terry Anderson said addressing the program participants.
Terry Anderson also offered 5 principles of ethical behavior that public servants should comply with: uphold the law, serve the public interest, do not harm, take responsibility for actions and advance professional excellence.
Taras Dobko, Senior Vice Rector of the Ukrainian Catholic University, believes that it will take Ukraine quite a while to work out a good formula for the state-society relationship. "One of the driving forces behind the Revolution of Dignity was the desire to change state-citizens relations. That's why we launched the Good Governance program at our University. The safety and security of our country, undoubtedly, depend on the developments in the east of Ukraine where our men are fighting to stop the aggression. However they also depend on whether we will manage to implement the much needed reforms. Today public servants are at the forefront of reforms and success in our country. We have high hopes for the graduates of this program," summarized Taras Dobko.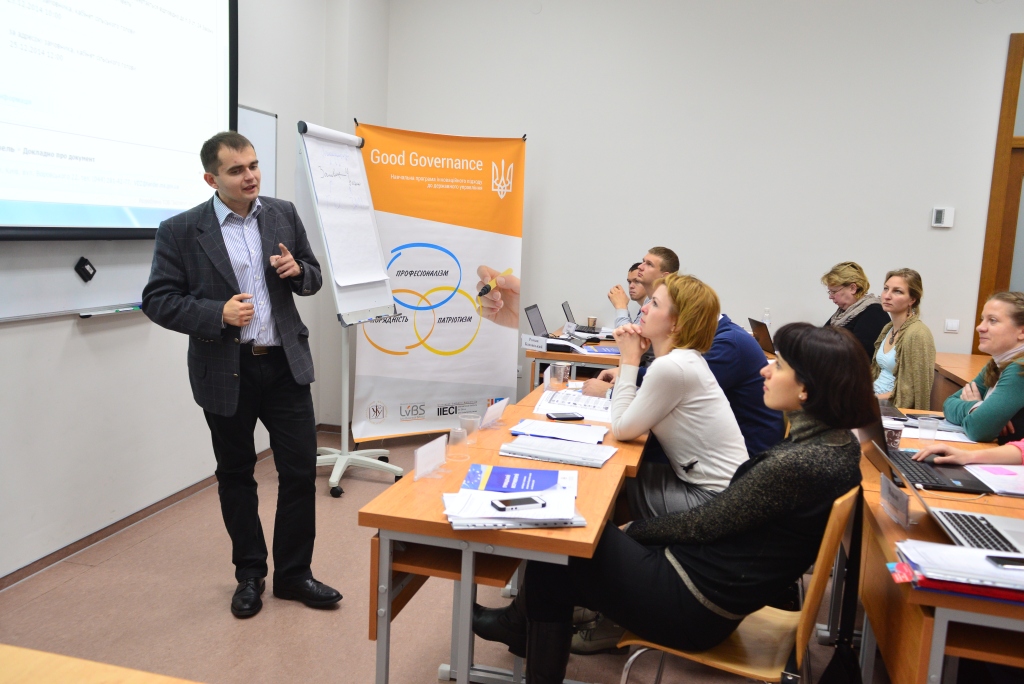 Liubov Krokhmalna, a graduate of the second Good Governance program and advisor to a member of the National Television and Radio Broadcasting Council of Ukraine, says that the training she received within the program was effective and interesting, "Both among the participants and faculty of the program, I met many professional and proactive people who became a valuable and reliable source of expert opinions for me. I will definitely rely on these expert opinions when making decisions in the future."
When asked what learning outcomes she is planning to use in her professional activities in the short term, Liubov named three things, "Negotiation skills, performance appraisal and compliance with ethical rules relevant to public administration."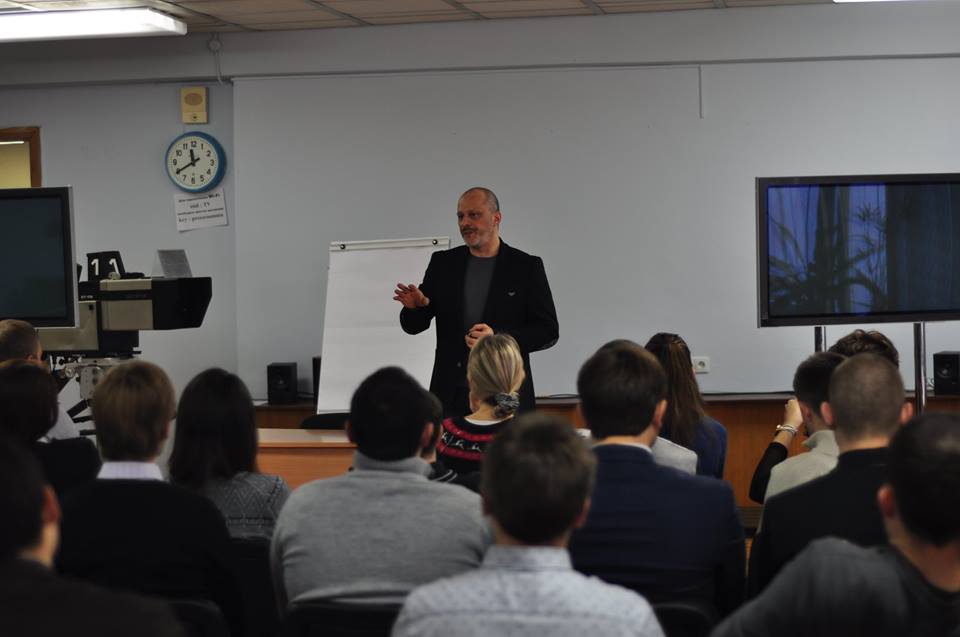 Program objectives: to prepare a new wave of government managers with innovative thinking who not only understand how to implement changes during current conditions of crisis in government but also will embody ethical principles and values for the benefit of the community.
One of the goals is to create a community of graduates with the appropriate levels of competence and with corresponding values who will become part of one community and supported in their future professional activities.