On the 24th of April, Lviv Business School of UCU (LvBS) invites you to the eighth annual Vision Conference on the topic of the business innovation «INTRO-2018: how the companies can keep the startup drive?»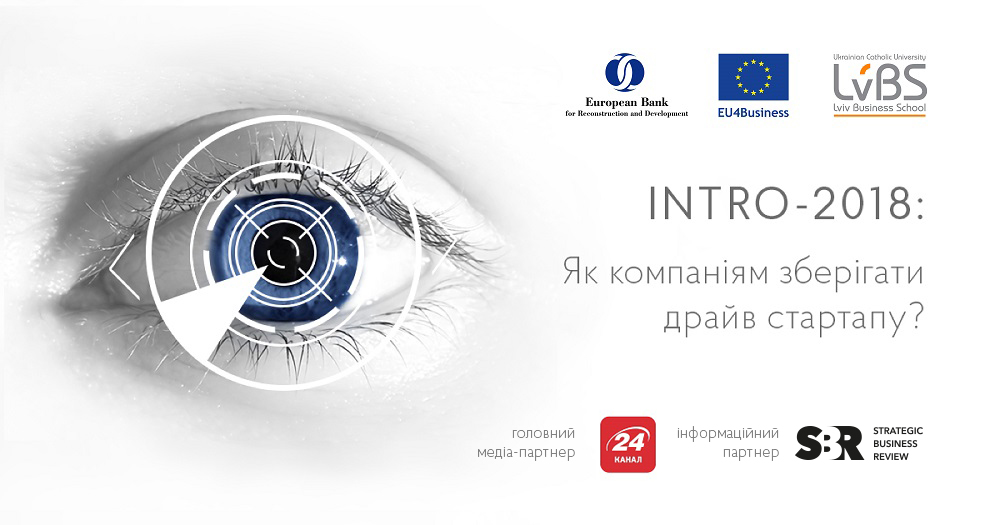 Ukrainian and international experts and entrepreneurs are meeting at the contemporary Sheptytskyi Center in Lviv to discuss the ways to implement innovative approaches in large corporations, small and medium-sized businesses, as well as how to make innovations a part of an organizational culture.
Unfortunately, the development of an organizational culture very often lags behind the demands of the innovative shifts. The issue of the implementation of declared values by managers and by staff as well is very important and contributes to the internal development of the organization and the creation of the effective innovative motivation of the staff.
International institutions consider technologies of the main driver of the company development. It is important for Ukrainian business to be more interested in the essence of global processes, the role of innovation and the possibilities of their introduction. There is no point to expect that the state will actively develop the country's innovative potential, it is necessary to do it on our own. Therefore, we decided to invite representatives of different business sizes and essentials to discuss the necessity of introducing innovations, the experience of how they manage to implement it and approach to them in terms of preserving and developing organizational culture.
Conference guests are business owners and corporate executives, participants and graduates of LvBS Master's programs and management programs. Estimated number is 100+ persons.
Speakers of the conference:
Garry Bruton (Texas Christian University, USA)
Soumodip Sarkar (CEFAGE's Strategy, Entrepreneurship and Operations research group, Portugal)
Yulia Poroshenko (Radar Tech, Agrohub, Ukraine)
Kyrylo Kryvolap (the Associated Partner Civitta, Ukraine)
Andriy Pavliv (CEO N-iX, Head of the Supervisory Board of Lviv IT Cluster, Ukraine)
Andriy  Milinevskiy (partner and founder of CX Design, Ukraine)
Ihor Blystiv (marketing – director Kormotech, Ukraine)
Olexandr Stoyanov (SME Director Kyivstar, Ukraine)
The event is taking place within the EU4Business Initiative and will be supported by the European bank of Reconstruction and Development.
Major media-partner – News tv channel 24
Info-partner – SBR journal
Venue: Sheptytskyi Center, Lviv, 29 Stryiska street
Contact person: Svitlana Kyrylchuk, skyrylchuk@lvbs.com.ua +38067 76 00 779
Background information. INTRO conferences have been uniting business leaders for eight years in order to discuss the topics and perspectives of the entrepreneurship in Ukraine that are relevant for each year.