Peter Drucker, a renowned management scientist and consultant, once said: «The last test of a leader's greatness is how correctly he has chosen his successor and whether he was able to leave the stage by handing over management.» When it comes to family business, by successors, obviously, they mean heirs, almost all business owners dream of it. That is why the retirement of the founder and the transfer of his powers to the heir must be carefully planned in advance. First of all, this will be facilitated by the family constitution and the preparation for succession. And how to do it right – guest experts Martin Rudolf Brenninkmeijer and Ferdinand Brenninkmeijer (Germany) will tell you within the studios of LvBS Family Business Center «Family Constitutions and Succession Planning: how these can help in passing on the family business to the next generation?», that will take place in Lviv on September, 17.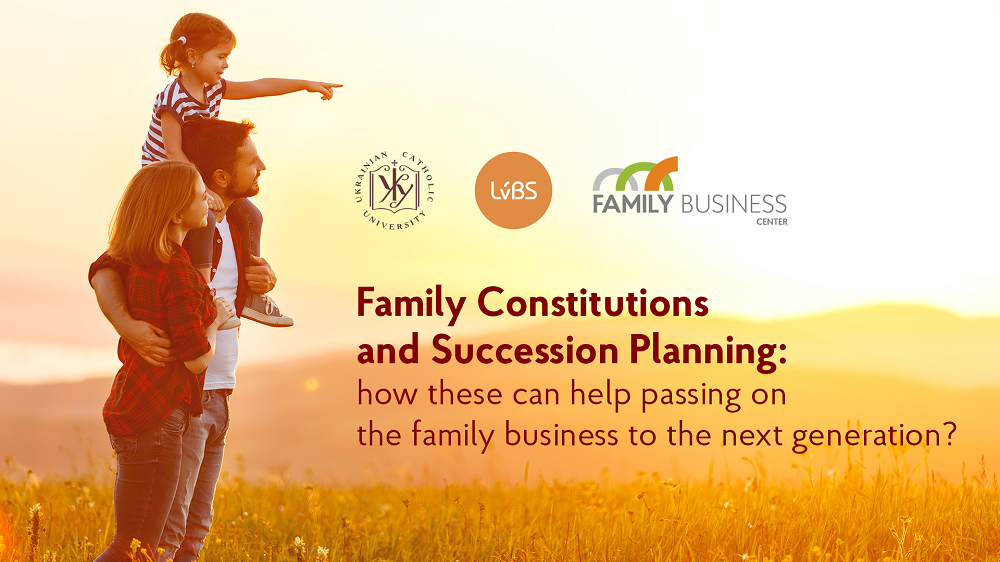 Martin Rudolf Brenninkmeyer,  a representative of the fifth generation of the entrepreneur family which  owns the Brennickmeyer family business, and his relative Ferdinand Brenninkmeyer, who deals with development of the Porticus – an international charity founded by Brenninkmeyer, will talk about the following during the training session:
What role does corporate social responsibility of business play in the family business?
How to effectively manage a business with ethical values ​​in mind?
Can a family business afford to create and grow charitable foundations and organizations?
How to successfully involve heirs in the work for the company and what is the secret behind the success of keeping family business for 5 generations?
We believe that this meeting will be especially valuable for the development of your family business with the participation of several generations involved in the work in the company, join in!
Participation is free of charge subject to pre-registration:
Date: September 17, 2019
Time: 16: 30-18: 30
Location: Park Auditorium (127) of Metropolitan Andrey Sheptytsky Center,  29, Stryiska street, Lviv
Contact person: Solomiya Savruk ssavruk@lvbs.com.ua, +380 50 289 1210
* Reference: The LvBS Family Business Center was created to address the issues of effective family business management and succession in family businesses in Ukraine. The LvBS Family Business Center is one of the academic centers of the UCU Lviv Business School, which follows the global trends and offers up-to-date solutions for Ukrainian business with its realities.
Martin Rudolf Brenninkmeyer is a representative of the fifth generation  of the entrepreneurs family which owns the Brenninkmeijer family enterprise. Originally from the Netherlands, born in 1969 in Bussum.  He has acquired business education in Germany, Switzerland and France, and has worked with companies from Germany, France, the USA, Brazil and Switzerland. After extensive retail experience at C&A Europe, Maurices and C&A Brazil, he returned to Europe to coordinate Family Human Resources from 2012 to 2017, through the company's new-generation family business program.
While acquiring  his business education, Martin Rudolph was deeply interested in philanthropy. He  holds and has held several governance positions in Charitable Institutions,  chairing from 2011 till 2018 a family-run Philanthropy Private Company, being responsibility for different foundations and as Chairman of the Board of Porticus, an advisory organization  which specialized in the area of philanthropy and promots respect for human dignity in society. For 5 years he has been coordinating the Family Heritage Center in Dreyflessen in Mettingen (Westphalia, Germany) where his family comes from.
Ferdinand Brenninkmeyer graduated from the Faculty of Philosophy and Sociology at the University of Würzburg (Germany). He is a member of the family which has been involved in the clothing and real estate business for generations, and  throughout his career he has worked at retail businesses in his family. Since  late 1990s, this has in particular meant the search for new markets in Central and South-Eastern Europe. Since 2012, he has been increasingly involved in charitable community activities, coordinating  work of the Porticus offices in Dusseldorf and Vienna.
Porticus is an international organization that manages exclusively charitable programs and it was  founded by the Brenninkmeyer family. Porticus provides strategic guidance on programs and offers a full array of grant management services. All Porticus-supported charity projects are designed to promote respect for human dignity and social justice. Porticus has got 14 offices:  in Düsseldorf, Vienna they are overseeing the organization's involvement in German-speaking countries, Central-Eastern and South-Eastern Europe, Northern Europe, the Middle East and Northern Africa.