Despite being the first, the event held was in the international format. The UCU Center for Entrepreneurship hosted its first event within the framework of launching the newly established Metropolitan Andrey Sheptytskyi Center. Both Ukrainian and foreign experts participated in the event.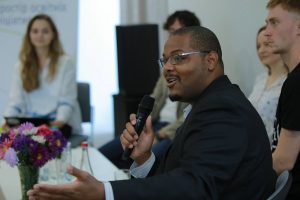 Will the Educational Technology kill the classical education or vice versa, will technology maintain our desire and ability to learn? This was the topic discussed during the meeting.
«We represent the company that creates educational technologies in the field of medicine. And, unfortunately, I believe that EdTech for the classical education in this area will have a destructive effect. In medicine, technology creates new forms of learning that help extend students' knowledge and improve their skills. Due to artificial intelligence, virtual and added reality, the education in this sphere will soon be based on analytics, it will become far more personalized and, therefore, effective,» says Robert Taylor, CEO at SimLab IT.
Oles Datsko, CMO at XEdu Finnish company in his turn is convinced that EdTech is the salvation for education. «It won't kill education, but on the contrary, it will try to save it. For education, technologies provide new opportunities».
In the nearest future, we will publish a video recording of the discussion.
See also: Be like Sheptytsky! Support the UCU Center for Entrepreneurship