Lviv Business School of Ukrainian Catholic University (LvBS) and The Old Lion Publishing House  present the book by a famous civil activist and Vice-rector of Ukrainian Catholic University Myroslav Marynovych – «Metropolitan Andrei Sheptytsky and the principles of 'positive sum'».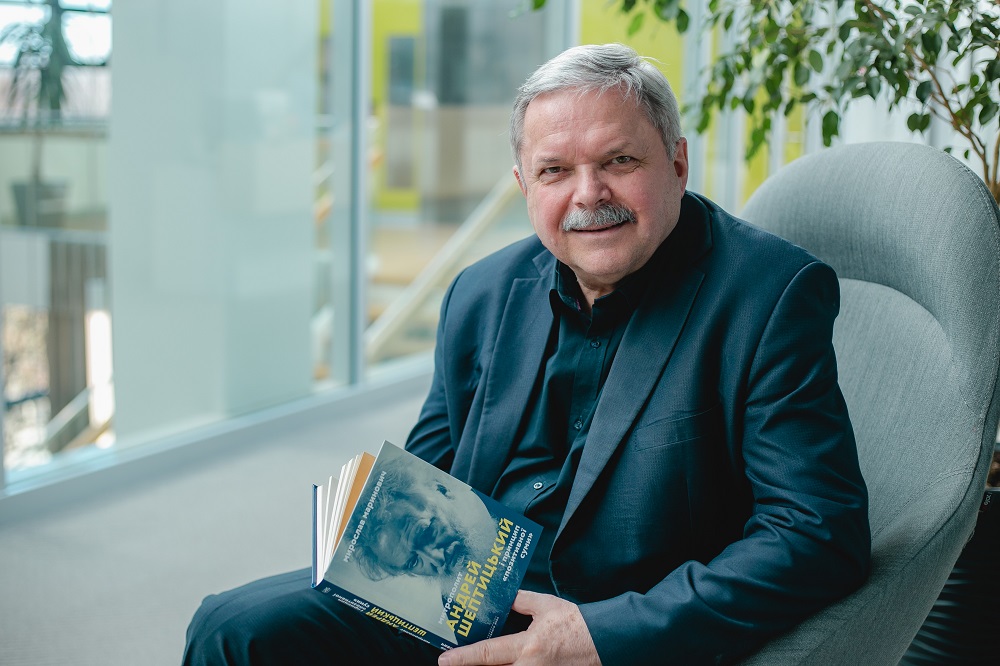 The book «Metropolitan Andrei Sheptytsky and the principles of 'positive sum'» comprises a substantial analyses of intellectual heritage of Metropolitan Andrei Sheptytytsky through the prism of four aspects: theological background, economic relations, national sphere, interfaith and interreligious spheres. The author undertakes a valuable analyses that helps to apply Sheptytsky's doctrine, him being much focused on  shaping a win-win thinking and applying it to up-to-date geopolitics to the current affairs in Ukraine, Europe, the USA and Russia.
«However, the crucial point is that his morality, his principles together with the significant recapitulation of his actual deeds to improve millions people's lives have become a moral milestone, that can occur to be much more decisive for the actual turbulent and disoriented era we are living in. This analyses makes us take a pause and apply different way of thinking: are morality and ethics really of value in economics? Are we making the right steps?», – comments Adrian Slywotzky, the leading business futurologist and the member of Advisory Board of LvBS.
«Current world crisis that involves hybrid war that Russia holds in Ukraine, Brexit, Trump in the USA, European anti-refugee movement, nationalistic governments in Poland and Hungary –  can also be viewed from the point of revenge of the principles of «zero sum», that rebelled against the founding principles of postwar European system – the principles of «positive sum». Sooner or later Ukraine will have to make its choice in this harsh coordinate system. And, in order not to be mistaken, we should study the logics of the prominent moral leader of Ukraine, Metropolitan Andrei Sheptytsky, who according to his pastor letters, used to be among co-founders of this modern European system. During the World War II Ukrainians found themselves withdrawn from Metropolitan's recommendations, and – Lord gives us strength – that now, in times of new turbulent world, we would be much wiser. To be successful with it we should read attentively the priest's pieces of advice by Metropolitan Andrei, that are generously provided in this book!», – says the author Myroslav Marynovych.
«If we never had in our history the figure of Metropolitan Andrei, who was imminent of broad visionary thinking as well as gigantic love to the small person, our reality would be much more different. And who knows if we could have managed to become an independent state like we are now, despite of all the challenges we are facing», – noted Maryana Savka, the Chief editor and co-founder of The Old Lion Publishing House.
On April 10, in Lviv, within the official release of the book, there will be a public discussion on the book with the following participants taking part:
Myroslav Marynovych, the author, human rights activist, an expert in religion, founding member of the Ukrainian Helsinki Group, a member of Nestor Group
Sofia Opatska, a founding Dean of LvBS, Vice-rector of UCU
Oleh Yaskiv, doctor of technical science, civil activist, the director of the Center of Metropolitan Andrei Sheptytsky
Andriy Khudo, the founder of the holding of emotions !Fest, a member of Advisory board of LvBS
Moderator: Maryana Savka, chief editor and cofounder of The Old Lion Publishing House.
More details and registering for the event
The book has been published with the support of LvBS Alumni: MS Key Executive MBA, MS in Innovations and Entrepreneurship and also MS in Human Resources and Organizational Development. The author appreciates their assistance greatly.