Friends, we have achieved a great feat together: we have successfully raised the planned amount of $75,000, which is enough to establish the Oleg Vorobyov Memorial Fund. This fund will annually generate a scholarship for a talented student at UCU.
Today, May 11th, hero Oleg Vorobyov, who died in the Russian-Ukrainian war, would have celebrated his 46th birthday. And the smallest gift we can give is to fulfill his dream of accessible quality education. This fund will not only help future members of the community to obtain a decent education in Ukraine, but also permanently preserve the name of the hero in the memory of generations, who gave his life for the future of our people.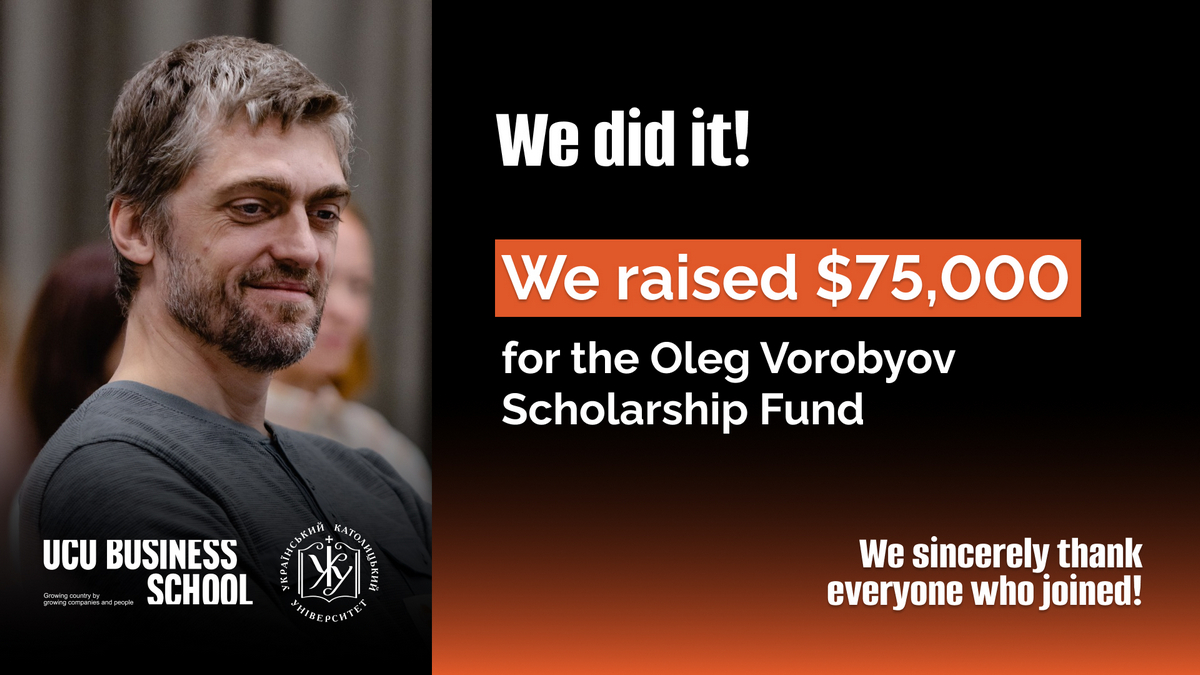 Oleg Vorobyov was a student in the Master of Science in Technology Management program at the UCU Business School and COO of The Spares Expert Ltd. He was a participant in the Anti-Terrorist Operation in Eastern Ukraine, and after returning home, he and his wife founded a psychological support course for ATO fighters called "Happy Together." At the beginning of the full-scale invasion, Oleg volunteered to defend his country again. On May 30, 2022, he was killed by a Russian terrorist in the fight for freedom and independence of our state.
"Oleg Vorobyov gave his life, among other things, so that we could live, dream, and create. By filling the Fund in his memory, every year we will be able to award one scholarship in the name of Oleg to a student who will join the leaders and create the future of Ukraine with us shoulder to shoulder," said CEO of LvBS Yaryna Boychuk.
In the summer, a scholarship fund was launched at UCU in honor of the Hero Oleg Vorobyov. Drop by drop, you filled it with your donations during events, including the annual Alumni Leadership Day, charitable webinars, and the 15th anniversary celebration of LvBS, thanks to the personal initiatives of concerned Ukrainians, contributions from Ukrainian businesses, and anonymous donors. We sincerely thank everyone who joined this charitable initiative!
75000 is the necessary minimum, and symbolically, we reached it on Oleg's birthday. Now we believe that we can achieve a bigger result of 100,000 dollars, so that this fund can be sustainable for years to come and provide a full annual scholarship!
For reference: to establish an endowment (a permanent fund) at UCU, it is necessary to collect a sum of $75,000 to $100,000. This sum is invested and never spent, and the profit is directed towards providing annual scholarship support to UCU students. The maximum amount for an endowment, $100,000 USD, allows for the full cost of one student's education to be covered for one year. In such a case, a financial institution acts as an intermediary, and your donation is transformed into an investment!
Establishing permanent funds is a widely used method of utilizing donations by non-governmental organizations and universities in Europe and America.