IT Professionals Produced Solutions for Optimizing Processes at Lviv City Council
At the request of the Lviv City Council, participants of MS in Technology Management at Lviv Business School of the Ukrainian Catholic University have analyzed, documented, and optimized processes for providing administrative services in the city.
During two months, representatives of Ukraine's leading IT companies (LvBS students) explored and analyzed processes at the Lviv City Council and worked out solutions for their optimization within the e-government project aimed at improving services for Lviv city residents. For this purpose, the e-government team had selected 6 processes that local residents deal most often with, namely:
* obtaining a family composition certificate,
* renewing one's passport,
* obtaining an outdoor advertising permit,
* a police certificate,
* a housing waiting list certificate,
* a copy of city hall ordinances.
The jury that assessed the performance of MS in Technology Management participants consisted of: Valeriy Makarenko, Chief Project Management Officer at De Novo; Jaanika Merilo, an external adviser to Lviv City Mayor; Tymofiy Aleksandronets, Head of the Interdepartmental Coordination Office at the Lviv City Council; Oleksandr Zacheshygryva, Business Development Director at De Novo; Valentyna Bartoshyk, Head of the Administrative Office at the Lviv City Council; Lyubomyr Boychuk, Vice President for Corporate Development at Infopulse; Vasyl Matyashovskyy, an external IT adviser to Lviv City Mayor and participant of SmartCity Lviv and SmartCity Kyiv projects.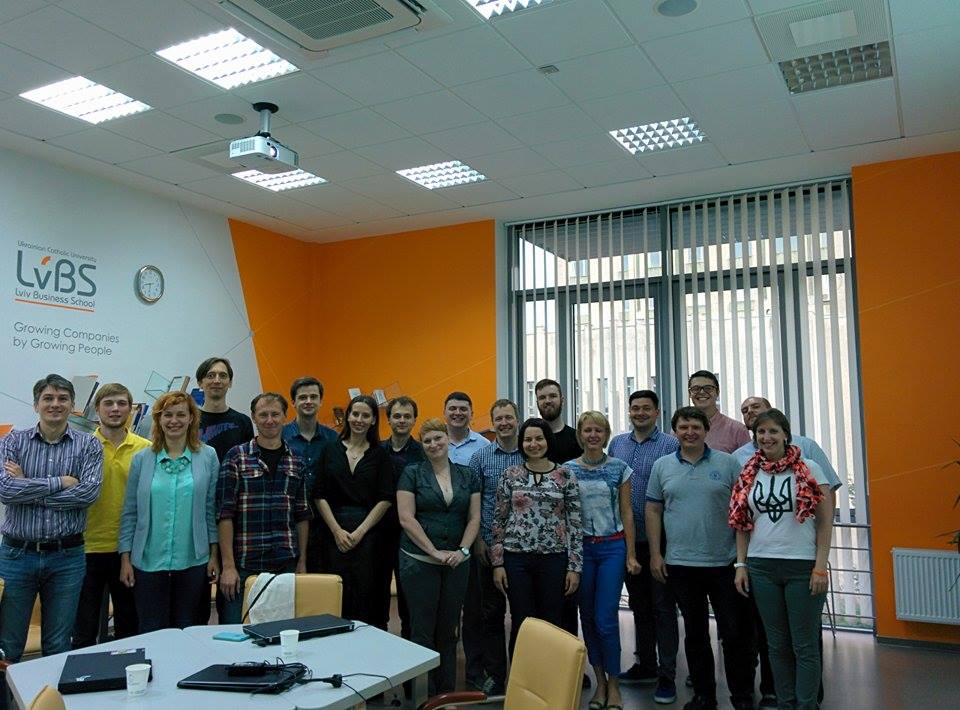 "You have performed an act of heroism. You have produced specific solutions that no one has ever come up with before," said Jaanika Merilo. She also added that the project had brought together real decision-makers, so we can expect some of the proposals to be implemented shortly.
According to Vasyl Matyashovskyy, an experimental project leader at LvBS, such cooperation experience demonstrates the effectiveness of synergy in the 'university-authorities-business' triangle, "The participants of the program involved in the analysis and optimization of processes for providing administrative services have proved that universities and their students (LvBS students in this case) can contribute to innovation implementation both in government and business! We also suggest using this tool in projects aimed at implementing Smart City approaches."
Vasyl adds that the cooperation between universities, business, and government is common practice in Western European countries and the U.S., which is always underscored by lecturers and experts teaching at MS in Technology Management. "Such cooperation enables companies and municipal agencies to engage experienced people in problem solving and find solutions that require extensive research that they usually don't have enough time or resources for. For Ukrainian businesses and governmental entities it's an opportunity not only to adopt the best international practices, but also to find new partners and potential clients. The key elements in this cooperation are methodology and solution development process management that we tested and whose efficiency we proved. Therefore, we are ready to continue collaborating with the city and companies and assisting them in problem solving both at strategic and operational levels regarding business/ product development or new market entry. We are open to receiving and offering solutions," summarizes the cofounder and member of the MS in TM Academic Board.
You can find Vasyl Matyashovskyy's contacts in the Team section.