International Study Tour to Norway Held for Participants of LvBS Programs
25 students of the long-term programs of the UCU's Lviv Business School went on an international business tour of Norway. The tour took place within the project "Innovation across Border" that included three training workshops in Ukraine and a week-long visit to Norway.
The project was implemented by LvBS in partnership with the Norwegian company Innoco and the Norwegian University NTNU with the support of the Norwegian Ministry of Foreign Affairs. The project was open to participants of the following programs: MS in Innovations and Entrepreneurship, MS in Technology Management, MA in Human Resources, and Good Governance.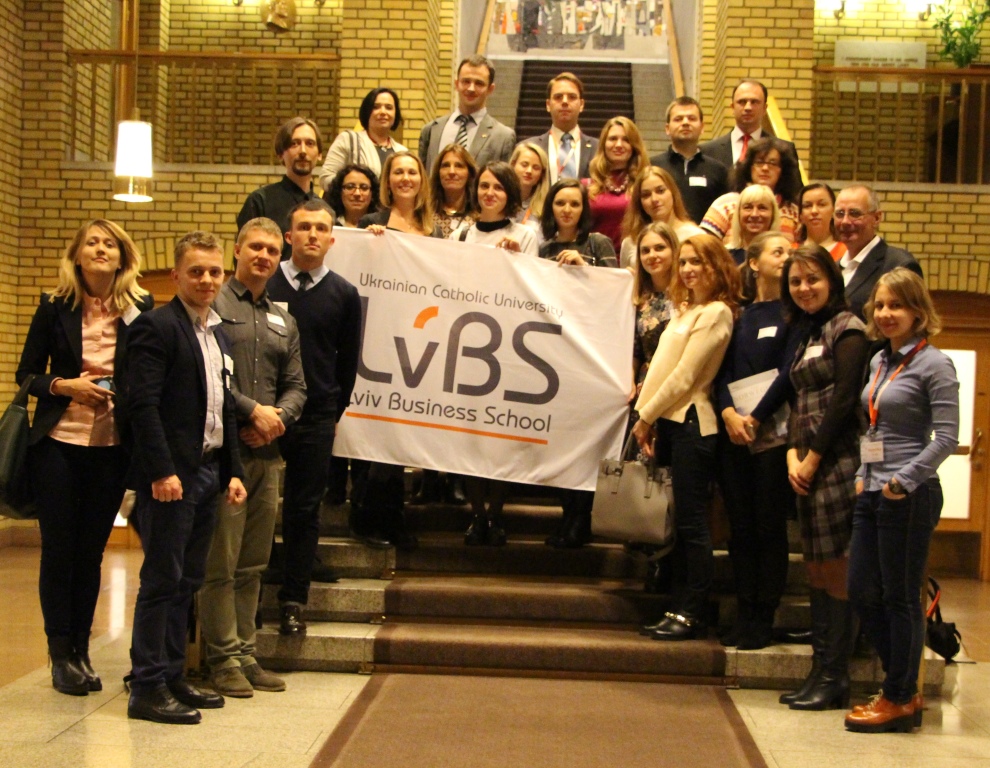 During one week (November 9-15), LvBS students visited Norway's leading companies (where they got to communicate with the top management) and governmental entities: Oslo Opera House, Oslo City Hall, Innovation Norway Office, Telenor (one of the world's major mobile operators), NRK (Norwegian Broadcasting Corporation), Nobel Peace Centre, BI Norwegian Business School in Oslo, LO (presentation entitled "Nordic Working Life Model: Challenges and Benefits), KS (Norwegian Association of Local and Regional Authorities), Norwegian Parliament, Architecture and Design University in Oslo, Finn.no; they also met with Reidar Hjermann, former Ombudsman for Children in Norway. Apart from the core program, every participant had individual meetings with representatives of their respective sectors – educational institutions, IT companies, municipal institutions, business incubators, etc.
On November 11, the participants took part in the Norwegian-Ukrainian ICT and Investment Conference in Oslo organized by the Norwegian-Ukrainian Chamber of Commerce.
"Lack of good governance in Ukraine is the main reason for the current situation with economy," said Borge Brende, Minister of Foreign Affairs of Norway, during the opening of the conference. He also stated that Ukraine needs and deserves support from the international community, including Norway, but we have to implement reforms as quickly as possible, "This conference is an excellent platform to plan cooperation between our two countries. There are numerous reasons why Norway should invest in Ukraine."
During the Norwegian-Ukrainian ICT and Investment Conference, Rostyslav Olenchyn, graduate of MS in Technology Management, presented his startup project DocTravel to potential Norwegian investors.
"The experience we gained during the international study tour in Norway is best reflected in the project's slogan "Innovation across Border: Changing Actions by Changing Mindset". The 25 young people that had participated in the tour came back to Ukraine with a different vision for implementing reforms. Now they have a clear understanding of those areas that require major changes. Besides business, these include social issues and local self-government. What also matters is the role of each individual in implementing these changes," emphasizes Yaryna Boychuk, Academic Director of Lviv Business School.
Within the project "Innovation across Border", the participants also elaborated their own ideas: how they can improve their own projects based on the knowledge and experience gained or how they can become more effective in what they do.
Olav Berstad, former Norwegian Ambassador to Ukraine, pointed out after the presentations, "We need to cooperate, especially in the area of innovation. Norway has succeeded not only because of huge energy resources, but also because of good governance, strong democracy, and trust. Innovation without borders is very important! We hope to see positive transformation processes in Ukraine in the near future."
"Despite the political and economic crisis in Ukraine, Norwegians are very interested in investing in our country. The benefits are worth the potential risks as resources in Ukraine are cheaper than in China. Logistics, cultural differences, and time difference also tip the scale in our favor. International business wise, Norwegians are very keen on setting up their production facilities here as well as on IT outsourcing. I think it's quite a good start," comments Maksym Lysak, co-founder / CEO at Startup Depot, Managing Partner at iHUB Lviv.