Lviv Business School of Ukrainian Catholic University (LvBS) and Plast have recently secured their friendly cooperation in ink. The representatives of the two parties signed a memorandum on cooperation on November 6, 2020.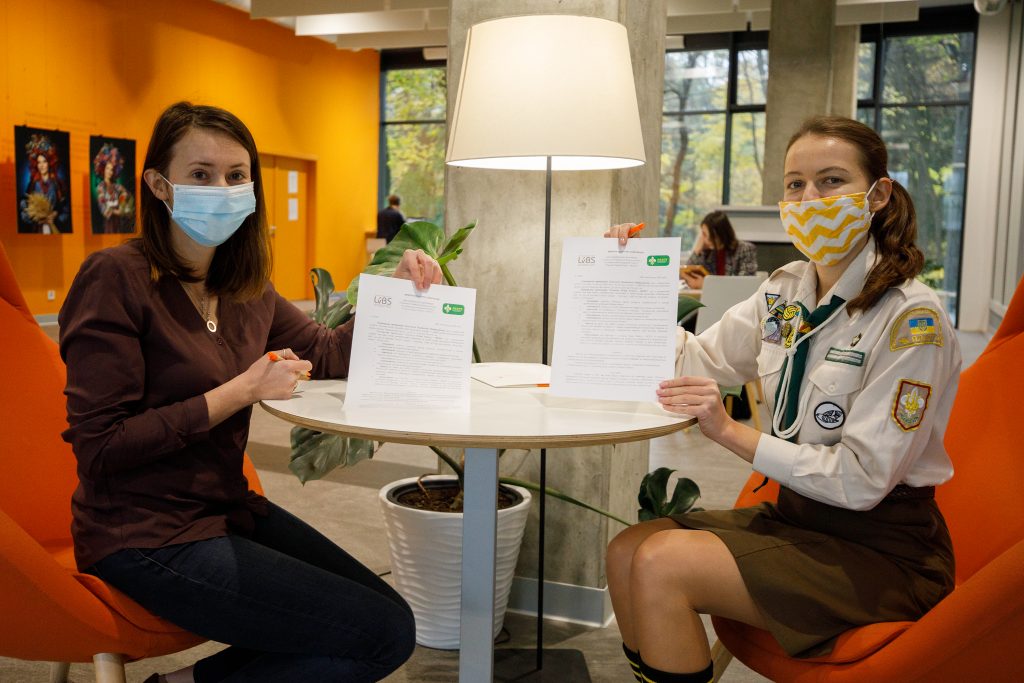 Both Plast and Lviv Business School of Ukrainian Catholic University (LvBS) are the powerful institutions, which share common values and can give an impetus to positive changes in our society. Plast assists youth in broadening the horizons and establishing self-discipline, while LvBS provides the substantial professional background and cultivates skills that are necessary for a present-day person. I am sure that this memorandum on cooperation will reinforce the endeavours, which the two institutions have in common — to raise and educate leaders of the Ukrainian society. We have already implemented two mini-projects during the quarantine time. Plastuns have conducted online lessons for the children of LvBS employees or graduates. Moreover, we have published the article on what is common between the two institutions. It is made up with the comments of LvBS employees or graduates, who are at the same time plastuns.
"I am looking forward to having an opportunity to implement a bigger project, which was postponed due to the COVID-19 pandemic. It is to launch a special one-day educational program for 17–35 year old plastuns aimed at acquiring and reinforcing skills, which are demanded by the employment market. This program should help plastuns find out what are the skills obtained in the course of Plast training called within the professional environment as well as get to know their value on the employment market. The course syllabus is elaborated by both LvBS authorities and graduates, who are at the same time plastuns," indicates Anastasiia Sliusarenko, the head of Lviv branch of Plast and the graduate of MSc in Innovations and Entrepreneurship program.
"A tighter cooperation with Plast provides LvBS a great opportunity to spread the ideas on shaping the Ukrainian entrepreneurial environment. We have been cooperating for many years and it goes natural for both of us. Now we have secured it by signing this memorandum," says Lyudmyla Kryzhanovska, the head of Development Projects Department.
The expected results of the future collaborative course:
the participants receive LvBS certificate on the completion of the course;
the participants receive the corrected CV as well as the professionals' feedback on it;
the participants receive new knowledge about the employment market;
the participants get acquainted with the LvBS programs;
three participants showing the best performance get an opportunity of a one-month internship
with the entrepreneurs, who are plastuns.