The Book Club members discussed the book "Fooled by Randomness: The Hidden Role of Chance in Life and in the Markets" by Nassim Taleb. It was selected by "Fortune" as one of the 75 smartest books of all time. The Lviv Business School graduates analyzed the book, discussed cases, suggested citations, and shared their impressions of the reading.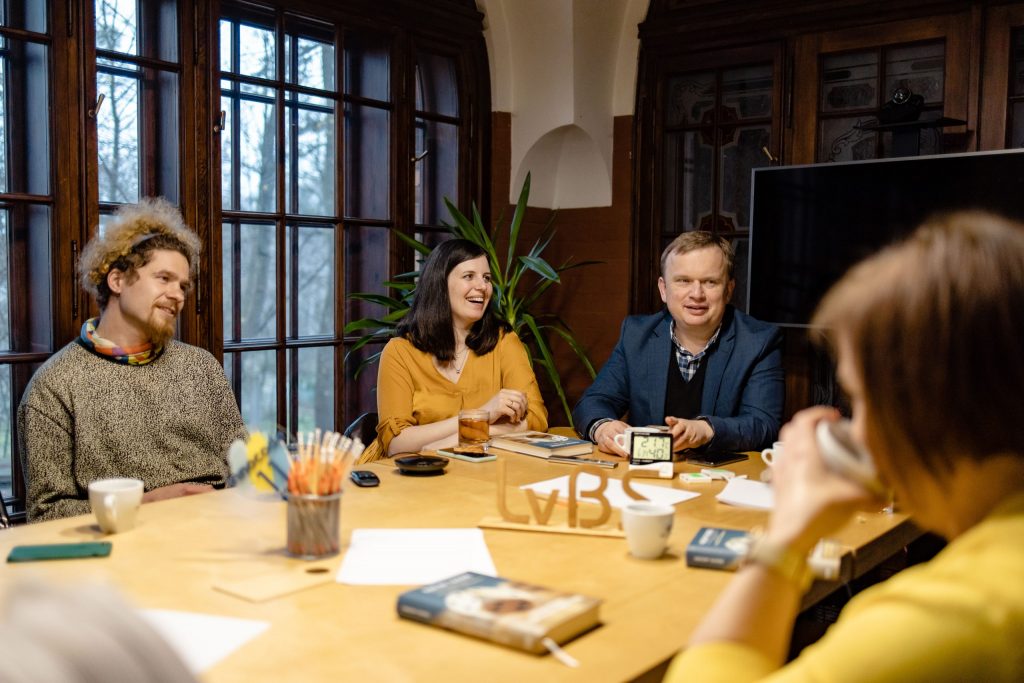 The Book Club meetings are held at the companies run by the LvBS graduates. This time the meeting was held at "Innocode AS" company. It was hosted by Valerii Shypunov, MSc in Technology Management graduate and LvBS Alumni Council member.
"I was about 17 years old. I was a freshman and studied in Kharkiv. During the summer holidays, my friend and I went to Kyiv. One day I was walking down Khreshchatyk Street and met a man, with whom we started this company three years later. We always present this story as an example of randomness.
I read this book by Nassim Taleb several times. I often appeal to it in different situations in both business and personal life. Everybody shall make his/her own mistakes. When you share your experience, you want to teach a lesson too. While everything is random, everyone has a different experience," said Valerii Shypunov, partner and CTO at "Innocode" Company.
Reverend Rostyslav Pendyuk, Key Executive MBA graduate, the Head of the Patriarchal Commission in Youth Affairs, and the Deputy Head of the Pastoral Council was the co-moderator of this event.
"In different cases, it seems that you know everything and do know which direction to follow. We all slightly overestimate our knowledge and skills, but we underestimate the likelihood of being wrong. This is a thought that one shall occasionally be reminded of," said reverend Rostyslav Pendyuk.
Yaryna Boichuk, the LvBS CEO, was an invited expert to this meeting. She wrote a review of the Ukrainian edition of the book.
"We do not notice and forget those, who have failed. However, we read, study and admire different success stories as well as try to learn something from them. Those reading thoughtfully may be looking for models to copy and do not even penetrate deeper.
We discredit the importance of luck. We justify our success with knowledge, efforts, and skills.
But imagine subjecting your success to a comprehensive analysis: what is owed to knowledge, work, and contacts, and what is owed to luck? Perhaps today I met the right person, without whom it would not have happened. Nassim Taleb questions everything and is quite critical," summarized Yaryna Boichuk, the Lviv Business School of Ukrainian Catholic University CEO.
How was the first meeting of the Book Club dedicated to the book "Thinking, Fast and Slow" by Daniel Kahneman
Moreover, the meeting co-moderator Oksana Herman, Key Executive MBA graduate, owner of the Ukrainian-German joint venture "Lviv-Trading", suggested a case study for reflection. How to understand what risks may happen in your business? How to work with people on their response to risks?
During the discussion, the participants found out that business owners or managers shall assess and realize the risks. An artificial critical situation application makes a good training for employees. In other words, this is a rehearsal of a risk situation. A team develops some skills in the uncertain conditions of several projected situations, which lay the foundation for actions in other unforeseen critical situations.
"American amusement park authorities weekly conduct lectures on safety for their employees. Furthermore, each manager can get an unexpected malfunction of an attraction as training when the daily inspection is conducted two hours before the opening," said Marta Chopyk, MA in Human Resources and Organization Development graduate.
Nassim Taleb is a Lebanese-American essayist, mathematician, former trader, and financial analyst, philosopher and scientist, whose works concern the problems of randomness and probability. "Fooled by Randomness" (2001) was Taleb's first book about the underestimation of the role of randomness in life for the public. It belongs to his "Incerto" series, which covers the following books: "The Black Swan", "Antifragile" and "The Bed of Procrustes".
Nassim Taleb is a Sorbonne and Wharton School of Business graduate. He has held positions at Courant Institute of Mathematical Sciences, University of Massachusetts, London Business School, and Oxford University. He has been a professor of Risk Engineering at New York University. He is a co-editor of the journal "Risk and Decision Analysis" (since September 2014) and provides teaching in the financial domain.
Information. The Book Club is aimed at gathering graduates around reading and reflection of, primarily, business and other kinds of literature with the involvement of experts. It is held in the LvBS Alumni club format. It also provides an opportunity to communicate in the Alumni community, lifelong learning, and personal development combined with a visit to a company, as one of the ideas is to hold every meeting in the company, to which our graduates invite us.
Expect the announcement of the next LvBS Alumni Book Club start in May.