Traditionally, at the end of the year, UCU Business School has something to share with you. Taking stock of what we have managed to achieve in 2021 and the results that have made an important contribution to both the LvBS Community and the national business environment.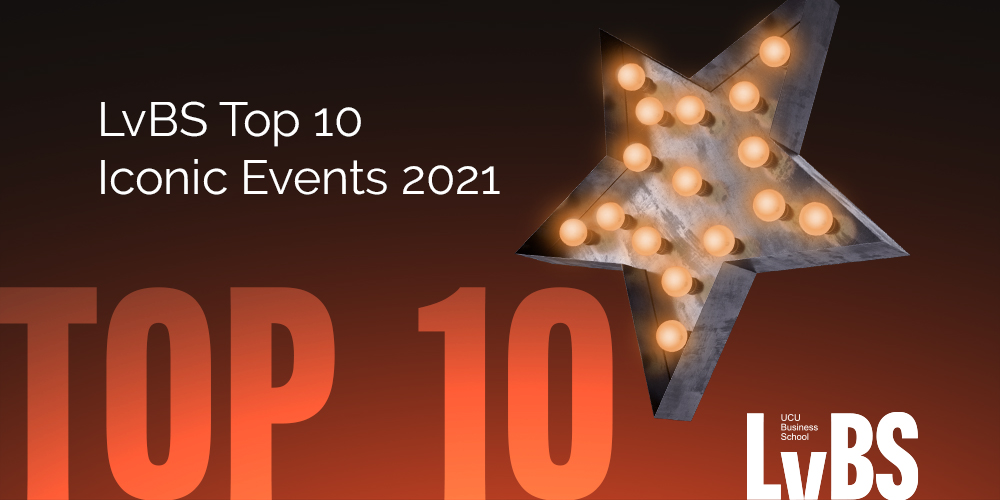 1. This year «Insight Inside» – the UCU Lviv Business School (LvBS) expert periodical has been released for the first time in a multimedia format. This allows us to constantly update it and fill it with new content in the user-friendly interface, along with interesting texts, you will also find video interviews and podcasts. The fifth issue of "Insight Inside" is dedicated to the topic of the post-Covid future. We covered the most relevant topics: Life after the pandemic – what will it be like? We asked experts from various fields about it and shared the most interesting insights. 
We will also tell you the stories about brave entrepreneurs, including the UCU Lviv Business School (LvBS)'s graduates, who openheartedly share how they managed to outlive the crisis or even start their own business in the most disadvantageous times. Welcome to watch!
2. In 2021 the MSc MSc in Marketing Management LvBS, which is the youngest fifth master's program at UCU Business School, was accredited by The National Agency for Higher Education Quality Assurance. Accreditation is granted for 5 years. 
This year, 25 graduates of the program have graduated and earned diplomas accredited by the Ministry of Education. Therefore, young marketing specialists have the opportunity to receive a modern European education in marketing management and get a state diploma.
3. UCU Business School has launched some new unique programs. In particular, together with the Center for Leadership of UCU   and Ian O. Ihnatowycz Institute of Leadership (Ivey business school, Western University of Ontario, Canada), we have developed a unique program for top leaders – "Leading organizations in a new era." The program aimed to clarify the most pressing issues: from the role of a leader as mentor and coach to hints on how to work with tired and irritated by the pandemic people; from successful communication with stakeholders during the pandemic to the restoration of confidence after the organizational crisis and identifying key leadership indicators. By the way, the teachers of this program were Gerard Seijts, the Executive Director of the Institute of Leadership at the Ivey Business School and Andriy Rozhdestvenskii, Ph.D., the Executive Director of the Center for Leadership of UCU.
In spring 2022 it will be possible to join this training again and improve your leadership skills.
4. This year we received a record number of requests for corporate training programs and conducted them. This shows that companies are ready to develop and scale as well as they encourage their staff to enhance their skills. We work with such companies as Plarium, Schreder, Myronivsky Hliboproduct, Enzyme, Nestle, Josera, Levi9, Avenga, Terrasoft, Treeum Jabil, and many others.
In total, we conducted 43 modules, and more than a thousand employees from various companies were trained.
5. This year we also have been actively developing online learning. Together with our partners, the Prometheus platform, we have launched new online courses, including "Leadership Basic" and 240 participants have already studied there. The launch of the online program "Personnel Management: Effective Tools" is coming soon.
In addition, the second iteration of the course "Business Design", as well as three iterations of the online program "David Wins", have taken place and a total of almost 700 people studied there. 
In total, in 2021, more than 1,000 participants took LvBS online courses, and we continue to design new ones.
6. This year the Alumni community also took the initiative and launched new projects. In particular, the  LvBS Book Club and 4 club meetings took place. Graduates gather in order to read and reflect first of all business literature, but not only, they also invite experts and gather in the Alumni LvBS club format.
Also, this year the graduates have launched a new important initiative- a Scholarship Foundation for representatives of the creative industries. And the first fellow became Solomiia Chubai, a musician, vocalist, and producer of literary and musical projects, who studied at the program "Efficient small business management». 
Besides, our graduates are also involved in our activities as LvBS teachers, as well as guest experts, become experts of the Advisory Boards of LvBS Consulting, which is an opportunity for them to look at their business from the outside and raise it to a qualitatively new level.
7. We have continued to develop in the medical field and support medical reform. In particular, this year a training program on mental health management Leaders for Mental Health took place.
And what was the result? The participants had the opportunity to gain up-to-date knowledge and practical tools for building mental health services and systems in order to meet people's needs, developed skills necessary for mental health projects, and improve their leadership skills. The program was implemented by LvBS and Be-It Health & Social Impact as part of the Mental Health for Ukraine (MH4U) project, funded by the Swiss Agency for Development and Cooperation (SDC), and will continue next year.
LvBS has also announced an intake for students for «Leaders for Public Health» training program, which will start in early 2022. Our goal is to create a network of public health leaders in order to bring knowledge and experience in this area to the community level and to implement specific projects at the regional level.
8. The year of 2021 was no less important for the UCU Center for Entrepreneurship , which has launched the first in Ukraine university startups incubator called ideasLab. This is the only acceleration program in Ukraine that provides student teams not only with knowledge and space for work but also with grants of up to $ 8,000 at the stage of the idea validation.              
34 teams from 8 universities of Ukraine applied for this program. 4 teams became the finalists: sconto, MountGuide, Moment and DeskBoard. Each of the teams raised between $ 3,000 and $ 8,000 in funding during the training and continues to work on launching its startups.
9. Also in 2021, LvBS and the Greencubator NGO developed a joint educational product called the first School of Energy Cooperation. Its goal is to share with the community representatives the best Ukrainian and international experience on the establishment and functioning of energy cooperatives. The project is supported by USAID's Energy Security Project (ESP) and in 2021-2023 the Greencubator NGO and LvBS are planning to hold 6 schools of energy cooperation.
Moreover, we continue to talk about sustainable development and conducted the «Business on Sustainable Development» assisted by experts from UCU Business School and the United Nations Development Program in Ukraine.
10. In 2021, LvBS announced a rebranding. UCU Lviv Business School has become UCU Business School, and the new slogan of UCU Business School is "Growing Country by Growing Companies and People". There were three reasons for this, according to  UCU Business School CEO Yaryna Boychuk. We are convinced that only strong companies and brands with ethical approaches and global thinking can strengthen Ukraine both within the country and its brand on the world map. And we keep changing!
In particular, this year we have also started the program of the LvBS system transformation based on Valeria Kozlova's authorial EQ-BOOST methodology. 
 Thank you for this year when you have been with us: as participants, graduates, teachers, partners, or invited experts. Let's continue to grow together! See you in the 2022 academic year!