Rebuilding Ukraine will be a significant and continuous process. However, it could be the «window of opportunity» for implementing cutting-edge solutions into the renewed urban space. This topic we are going to discuss with the expert on smart city solutions, Stephen Russo during the partnership webinar of UCU Business School and Artelogic.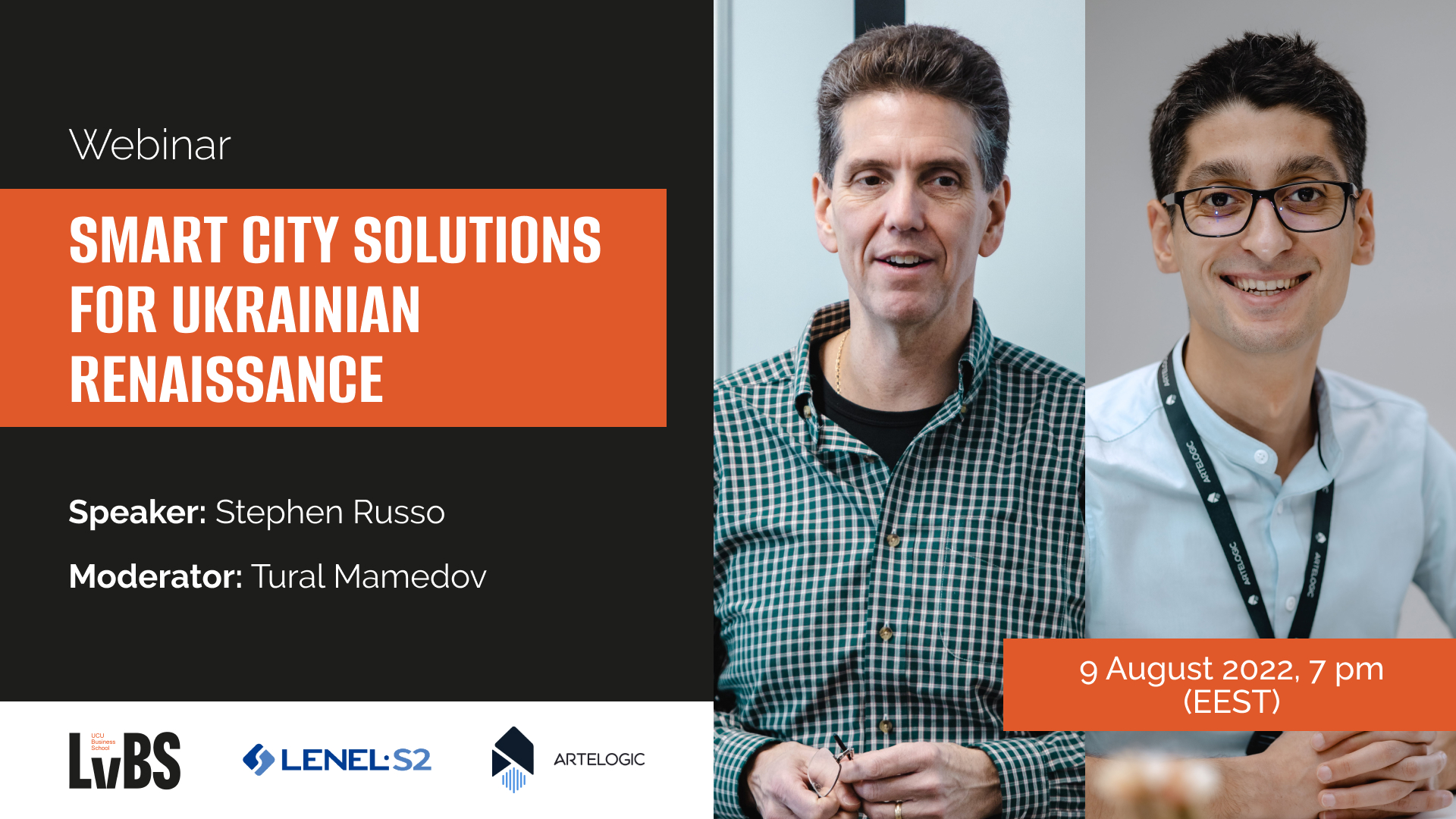 During the meet, we'll talk about:
What are the best examples of smart city solutions, and how did they change the cities throughout the world?

What are the benefits of these solutions for citizens?

What advanced technologies underlie the Smart City?

How to implement Smart City solutions from scratch and integrate them into existing urban environments?

Important things to know about the safety and security of critical infrastructures.
When: Tuesday, 9 of August, 7 pm EEST
Where: online [zoom]
Language: English
The speaker: Stephen Russo, VP Product Management Lenel/S2, UCU Business School lecturer. In past Worldwide Director for Cognitive City Solutions at IBM (NYC, USA), IBM Watson Internet of Things. 
Steve has 30 years of extensive experience designing, developing, and deploying worldwide technology and City solutions. In the past 17 years, he has led the creation and growth of IBM's City Solutions, Command Control, Physical Security, and Public Safety businesses, working closely with city officials and public safety experts from around the globe. Stephen is focused on advanced research of emerging technologies in various segments.
The moderator: Tural Mamedov, CEO at Artelogic, LvBS Alumni on MSc in Technology Management. 
Ukrainians fight for their freedom and the ability to live in peace daily. Ahead, we have years of recovery in all areas affected by the war. One of the essential components of Ukraine's victory is reconstruction.  And it is our mission to make sure we build great and convenient cities for great people.