An ethnic Ukrainian, born in Argentina, who lived most of his adult life in San Francisco working for Deloitte Digital. Мeet the new facilitator of LvBS' MSc in Technology Management program, Alejandro Andriy Danylyszyn.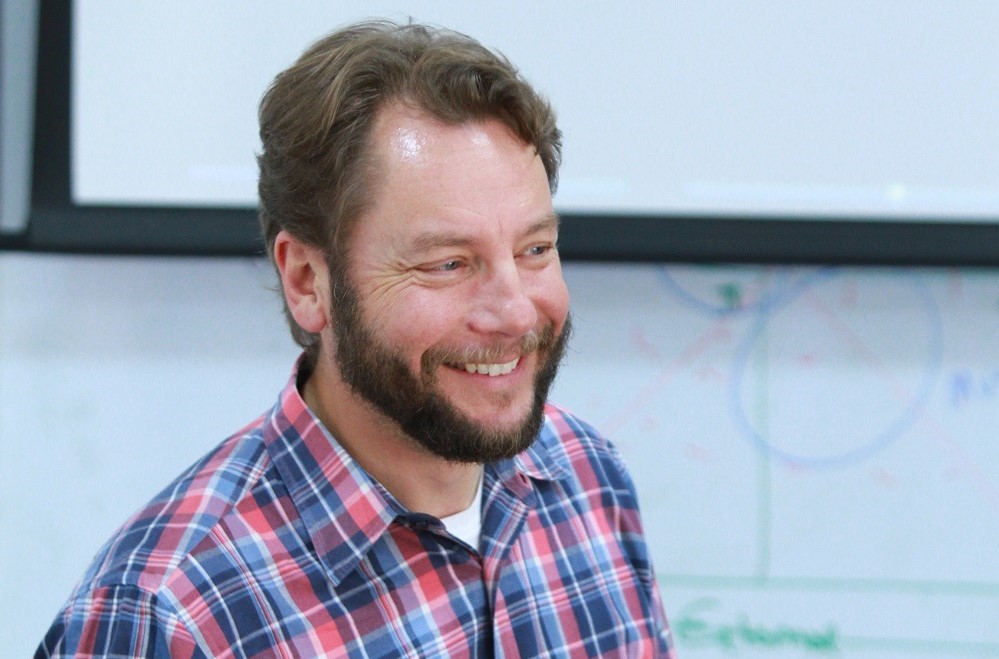 Digital disruption is the change that occurs when new digital technologies and business models affect the value proposition of existing goods and services.
Source: searchcio.techtarget.com
Who are you? How do you identify yourself?
I am a Ukrainian from Argentina, who lives in the US.
What did it mean to grow up as a Ukrainian іn Аrgentina?
It was like hearing about a country, learning its language, following its traditions without haven't been there. My parents and grandparents always told us that it was «our country» and «our people»; it was like loving something that I had never seen. When I visited Ukraine, I finally understood what they meant — and realized that I wanted to keep that culture and traditions and pass them to my children.
What is the story behind your move to the USA?
In 1992 I visited Ukraine to celebrate the first anniversary of Independence. CYM (Ukrainian Youth Organization) had organized an international youth camp in the Carpathians, and members from all over the world participated. There was a group from the USA, among them a girl that I fell in love with… and now, 25 years later, we are married and have two daughters.
After the CYM camp, we traveled around Ukraine together for a few weeks and then left for our respective homes in Argentina and the USA. But we stayed in touch and visited each other. A year later Vera lived some time in Argentina, and then we moved together to New York. In 1994 I entered the MSc in Software Engineering (MSE) program at Carnegie Mellon University (CMU) in Pittsburgh, so we split our time between Pittsburgh and New York — until we got married in 1995. After graduation, we moved to San Francisco, where I started working at Deloitte Consulting.
Why did you choose MSc in Software Engineering at Carnegie Mellon University (The MSc in Technology Management program at LvBS has two other facilitators from Carnegie Mellon University teaching Software Engineering for Managers and Requirements Engineering at LvBS)?
When I graduated from high school, I wanted to study electrical engineering. I liked programming, but I treated it as a support tool for «real» engineering work. Once in university, I realized that software development is a much broader practice, where you must think about the user experience, processes, data, infrastructure, etc. After finishing my Systems Engineering undergraduate studies at Universidad de Buenos Aires, I decided to study at a master program in software engineering; chiefly, I was interested in the human factors of software engineering, design and architecture principles, and management processes. I became interested in CMU because of their collaboration with the Software Engineering Institute, and all their pioneering work in software project management and maturity modules. CMU and the MSE program completely changed my professional mindset. I got the opportunity to learn from people who were at the forefront of their fields: software engineering, project management research, software architecture, design patterns, etc. — and contribute to their research, which was a great privilege.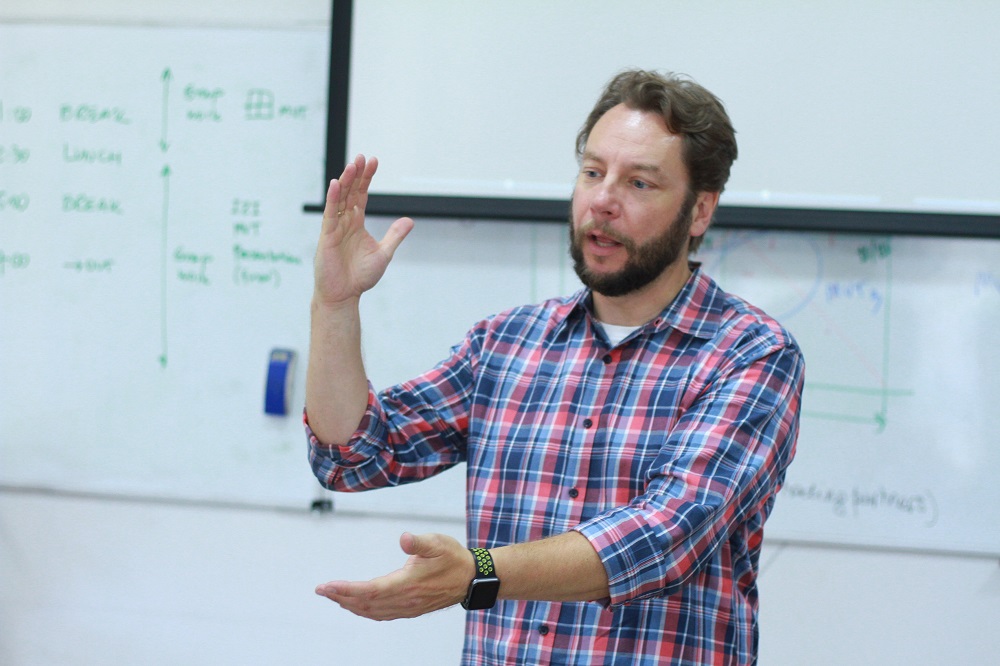 What do you do at Deloitte Consulting?
I lead the US West region of Deloitte Digital, a pioneering digital consultancy agency. We imagine, deliver and run our clients' digital solutions — from strategy and innovation to the delivery of e-commerce, content, marketing, advertising, customer engagement, sales and service, and other disruptive applications. We help our clients identify opportunities to exploit the value of digital technologies, and transform internally leveraging those capabilities, to take advantage of new business models. We deliver digital platforms to help them achieve higher process and asset efficiency, increase the transparency of their distribution and procurement networks, and ultimately reach their end consumers to create differentiated, personalized, highly tailored, contextual experiences.
Can you tell us about some of your projects?
HP is my oldest client. Over the years I had a variety of projects with them, but now I am running a program to transform their consumer and commercial self-service support portal: support.hp.com. We created a single, responsive web destination to deliver a personalized support experience, enabling «findability» — not just the ability to search for a product or a part but being able to find all relevant technical information, troubleshooting guides, videos, software downloads, etc. via dynamic content assembly in a clean, intuitive, and simple user experience. The business case behind this disruption is that HP had noticed that their Net Promoter Score (NPS) was very low, and negative in some geographies, primarily because of the poor service experience consumers were having after purchasing an HP product. So, by investing in transforming the support experience, HP's NPS grew, so that people that buy their products and encounter a problem are happier with the brand, and become advocates.
That translates into an increase of customer loyalty and retention, which means higher revenue and profitability over the long run.
A few years ago, we helped Fox Sports, a company that provides TV programming for sporting events, launch digital companion properties to their new cable networks (FS1 and FS2). In this world of digital disruption, they needed a way of engaging audiences before, during and after shows, and main sporting events. They needed a site where they could launch campaigns associated with those events, and reach their audience wherever (and whenever) they were. We worked with them to build foxsports.com, as well as a mobile app, to keep track of sports and develop online community hubs that aggregated information from linear programming, game stats, social media, polls, etc. to deliver personalized experiences. The highlight of that project was the development of microsites associated with Super Bowl XLVII, which was at that time the most watched event online with the highest number of concurrent sessions; it was a huge technical accomplishment, but also incredibly fun to be working at the command center to create this digital experience for sport fans.
What are your professional plans from this point and on?
Continuing to drive value from digital transformation and innovation for my clients. We see lots of opportunities in the world of B2B transactions and relationships to improve current processes or disrupt existing practices. The good thing about the digital space is that it is in constant change… so I have new challenges and opportunities every couple of weeks, it seems.
Can you tell us about the course «Digital Disruption» that you are teaching at MSc in Technology Management program at LvBS?
It is about learning how to use different models for analyzing a company and identifying opportunities to harness the power of digital forces. We look for sources of innovation in the company system or network, product and service offerings, and customer experience. We use the 10 types of innovations from Doblin, layered on top of an asset, system and ecosystem model to identify areas where companies can disrupt the competition, as well as themselves. The speed of technology innovation is accelerating, giving rise to new business models and competitors that didn't exist yesterday, and are different from those that will exist tomorrow. New consumer experiences arise every day, and customer expectations are in constant change. If a company is not thinking about how to improve itself, how to innovate or disrupt existing processes, somebody else will figure it out and disrupt them.
During the course, students take one company, working in groups, through three stages of modeling to identify opportunities for innovation that are born out of digital technologies, new media, and new business models. At the end of the course, participants are expected to create a transformation or innovation roadmap for the company they selected. We discuss case studies and engage in lively Q&A sessions with guest speakers leading large-scale transformations. In the process, students learn new techniques that they can apply in their companies and with their clients.
What do you think of the group of MSc in Technology Management participants that you were working with at LvBS?
It is an incredibly smart group. I was very pleasantly surprised by the depth of their questions, the tenacity with which they worked on the assignments, and the fast progress they made in such a brief period. They started on day one trying to understand what this course was all about, trying to frame goals and objectives but the rest of the course was an incredible, high-speed marathon to get through all the modeling. They worked very hard, long hours, putting the best of themselves into the exercise; it was quite interesting how at the end after they completed their final presentations, they themselves said that this was challenging work but worth it. Pleasantly surprised and very happy to be working with such an enthusiastic and very smart group!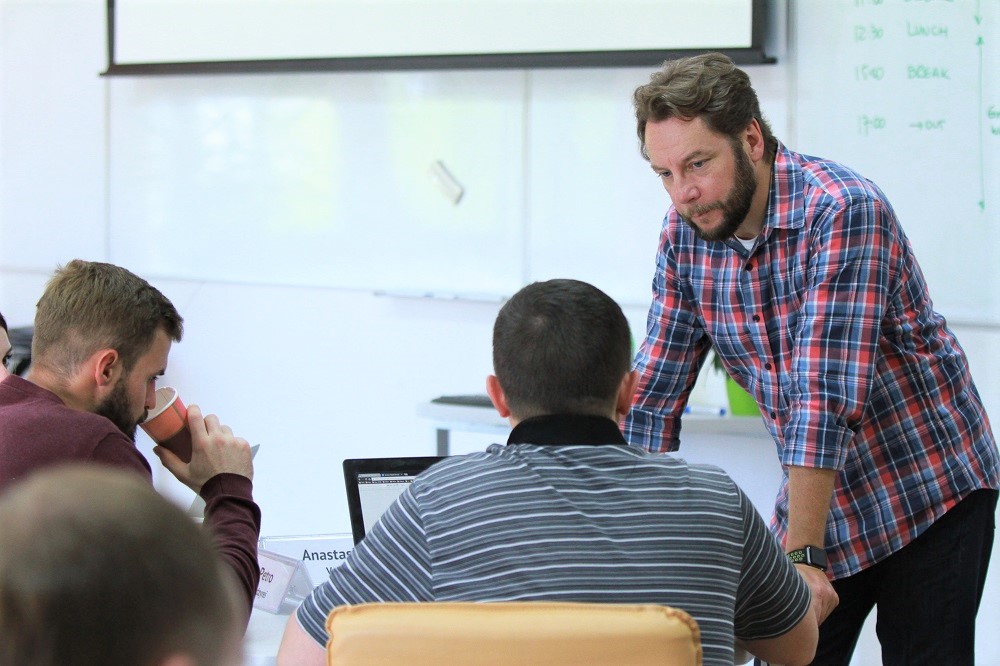 What do you think of the Ukrainian IT? What strong and weak point can you see? And is there a place for Ukrainian IT at the global IT market?
There definitely is a place for Ukrainian IT companies in the world. During my visit to Lviv I visited a couple of startups, IT companies, and an IT hub. I think that the Ukrainian market has been dominated for a long time by outsourcing, which is one of the leading contributors of Ukraine's GDP. But I think that there are great engineering talent and great innovative ideas, so the opportunity is there for creating solutions for the European market, for the American market, but also for the Ukrainian market.
I think one area that we had not had the chance to talk a lot about during my course at LvBS, but I see it bubbling everywhere, is the notion of government-to-citizen types of applications where IT can provide a great degree of transparency, and remove friction to help eliminate corruption, and apply government resources more efficiently. I think that this is an area that has been little explored but is worth considering. And of course, there is a whole consumer market in Europe and in the US, that can be reached by Ukrainian companies. Also, if Ukrainians working in IT want to look for ways to drive innovation and deliver disruptive solutions, perhaps it's a promising idea to focus on elevating the services they provide to corporate clients. You need to grow from providing outsourcing services to becoming a business advisor, someone working with the client at the forefront of innovation and disruption — become a strategic alliance partner to that client. Once you elevate your position, not only can you command a premium for your services, but also you will do much cooler types of work. This also helps your company attract and retain talent, because you do interesting and cutting-edge work.
What are your plans connected with UCU?
Would love to continue teaching at UCU, traveling to Lviv at least twice every year. I have a passion for digital transformation and want to contribute to the development of Ukrainian businesses — by developing our professionals.
I believe that sharing my experiences and knowledge with MSc in Technology Management participants will help ignite the same spark in them — driving innovative ideas and innovation for the benefit of the community.
What interesting books do you suggest Ukrainian entrepreneurs to read?
«Thinking, Fast and Slow» should be at the top of everyone's list. Understanding the psychology of decision making, biases, system1/system2 behaviors, etc. is crucial to creating compelling experiences — and Customer Experience is the new battlefield among companies in the digital world.
A full version of this interview read in Insight LvBS Inside, LvBS business magazine. You can get one for free at Lviv Business School's office or at our events.
Jan 24-26, 2018 MSс in Technology Management program will host a new course – Digital Disruption by Alejandro Danylyszyn, San Francisco based Principal at Deloitte Digital, a leading global creative digital consultancy, which helps clients achieve value through development of integrated digital solutions (e.g., web, mobile, interactive fixtures) – from strategy to implementation, and evolution. To learn more about the course and join the group, please contact MSс in Technology Management or Anastasiya Markuts, program director: +38 (098) 350 35 56, amarkuts@lvbs.com.ua.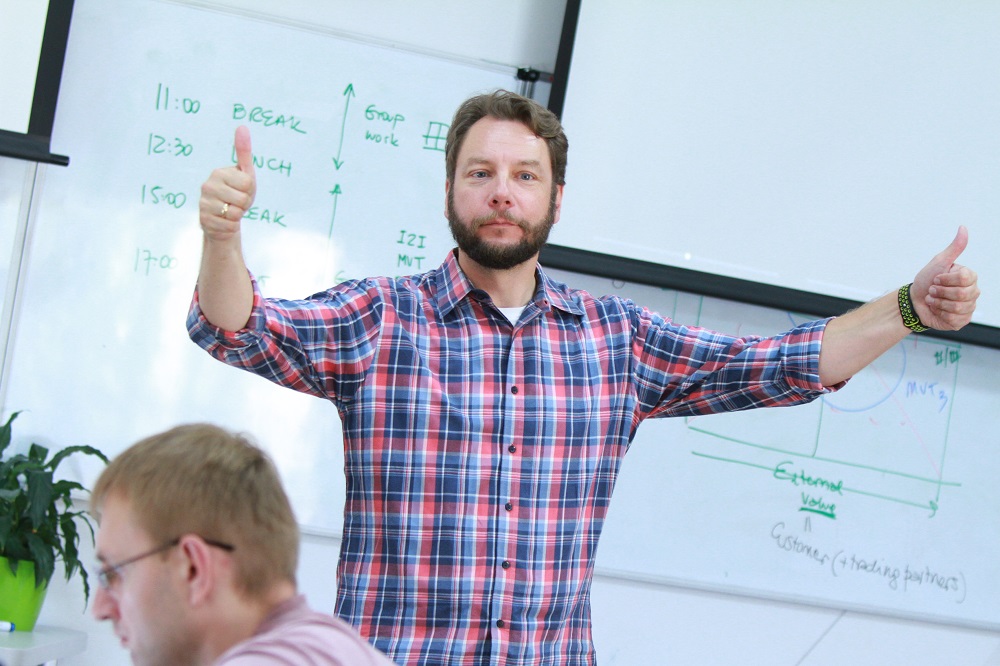 Text: Anastasiya Markuts, Nataliya Saturska
Photo: Bohdan Yemets