After studying hundreds of successful and failed projects ranging from small individual ones, Antonio Nieto-Rodriguez has developed a simple tool – the Project Canvas – that can be applied by any individual, team, organization, or country. 
Together with Antonio and Sergiy Potapov we will talk about it during the webinar at UCU Business School.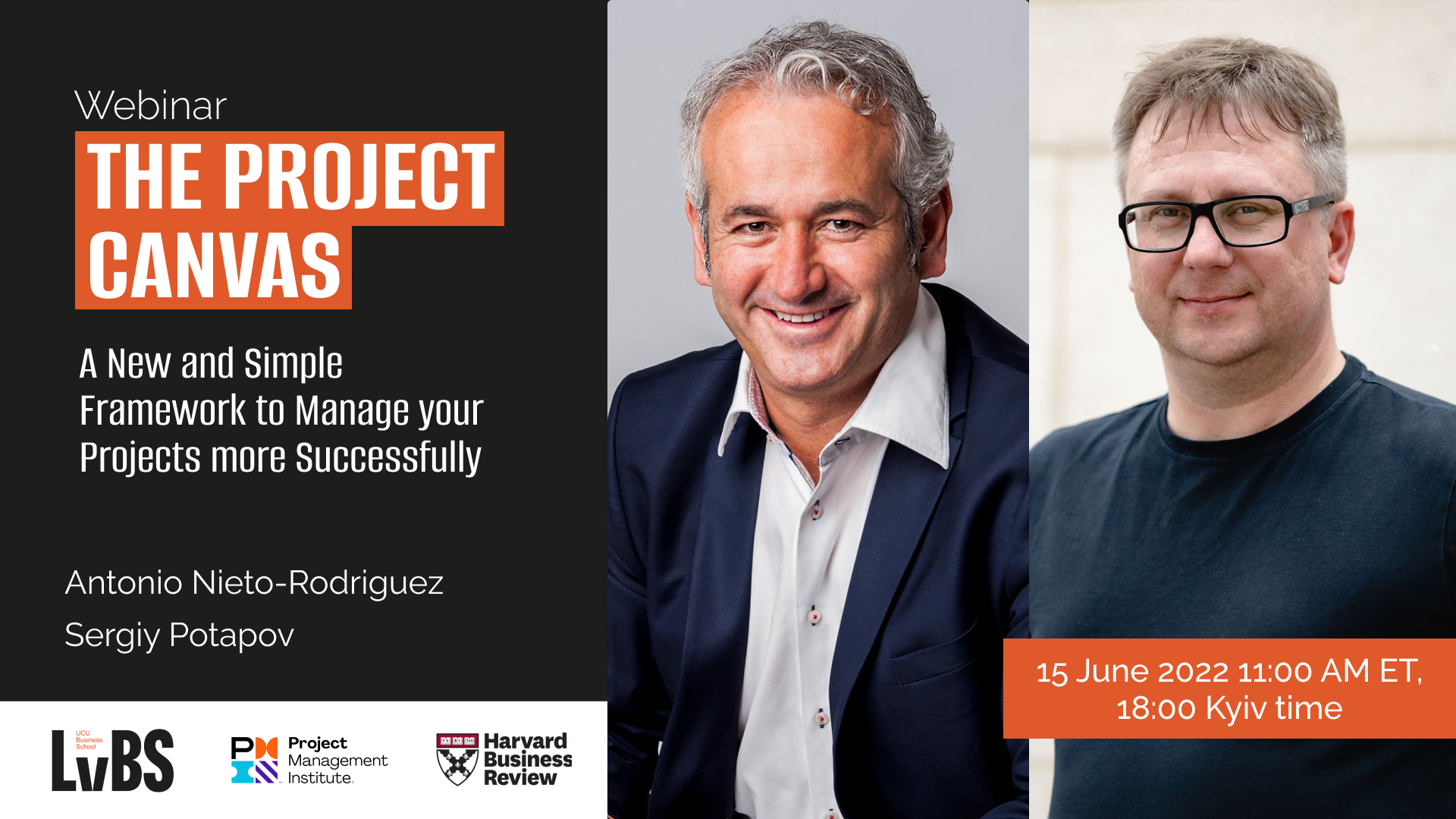 The questions we will cover:
Why do we need to reinvent project management?

The dimensions and elements of the Project Canvas.

How to put the Project Canvas into practice to increase the buy-in of your shareholders?
The speaker: Antonio Nieto-Rodriguez is an author of the Harvard Business Review Project Management Handbook, the featured HBR article  The Project Economy Has Arrived and four other books. Antonio is the creator of concepts such as the Project Economy and the Project Manifesto. His research and global impact on modern management have been recognized by Thinkers50. Fellow and Former Chairman of the Project Management Institute, he is the founder of Projects&Co and the Strategy Implementation Institute.
The moderator: Sergiy Potapov is a consultant, coach, and project management lecturer at UCU Business School on Key Executive MBA and DTEK Academy. Sergiy has been researching this field since 2002, and since 2015 he has been consulting various organizations on this topic, including the Department of the Ministry of Economic Development and Trade of Ukraine (Prozorro). Sergiy Potapov is also teaching an online course Project Management Basics that starts on the 30th of June.
Join us for the online meeting:
When: Wednesday, June 15, EEST – 5 pm. Kyiv time – 18:00.
Where: online [Zoom].
Language: English.
The Project Canvas covers the basic principles and fundamentals of projects that everyone should know about. It is practical and easy to implement. It is a proven tool that will assist you in leading projects more successfully and in making your dreams a reality.